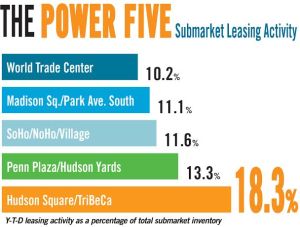 With the release of Commercial Observer's seventh annual Power 100 issue, I thought what better time than now to release the second annual Power Five by ranking the submarkets according to leasing activity over the last 12 months. The ranking is based on the total space leased as a percentage of a submarket's total size, to make it more competitive across all 17 submarkets. Interestingly enough, three Midtown South submarkets made the list this year, compared to only one last year. And only one submarket that reached the top five last year made the poll again this year. So let's take a look and see which one repeated.
5. World Trade Center: 10.2 percent of its inventory was leased, led by nine leases greater than 100,000 square feet completed in the last 12 months. More than 3 million square feet were transacted, allowing this submarket to be the only Downtown Manhattan representative in the Power Five.
4. Madison Square/Park Avenue South: 11.1 percent of its inventory was leased over the past 12 months, which equaled 2.98 million square feet. Almost 44 percent of the square footage leased in this submarket was from tenants renewing in place, led by Credit Suisse's 1.2 million-square-foot renewal at 11 Madison Avenue.
3. Soho/Noho/Village: 11.6 percent of its inventory was leased, and although the total square footage leased in the past 12 months was less than 1 million square feet, being the second smallest submarket in Manhattan has its advantages in this poll. This submarket blossomed due to more than 280,000 square feet being leased at 51 Astor Place.
2. Penn Plaza/Hudson Yards: This is the only submarket to repeat in the Power Five poll, as 13.3 percent of its inventory was leased. It is also the only representative out of the nine Midtown submarkets, since it was helped along by the 178,000-square-foot lease by New York & Company at 330 West 34th Street.
1. Hudson Square/Tribeca: Buoyed by the Citibank lease of 2.7 million square feet at 388-390 Greenwich Street, Hudson Square/TriBeCa propels to the number one ranked submarket, as 18.3 percent of its inventory was leased.