Ready to Launch: Jerry Larkin's Vision for Manhattan West
---
---
Earlier this year, a machine known as The Launcher got to work on the foundation upon which Brookfield (BN) Office Properties' 7.2-million-square-foot mixed-use Manhattan West project will rise.
So far, the metallic-yellow workhorse has methodically placed three of 16 concrete bridge spans atop a set of uncovered Amtrak tracks that lead to Penn Station, the rest of which are expected to be in place by year's end.
As The Launcher continues to work ahead of schedule at the task, the "neighborhood of the future" is becoming more and more of a reality, as marketing efforts to land an anchor tenant for the development's first commercial tower intensify.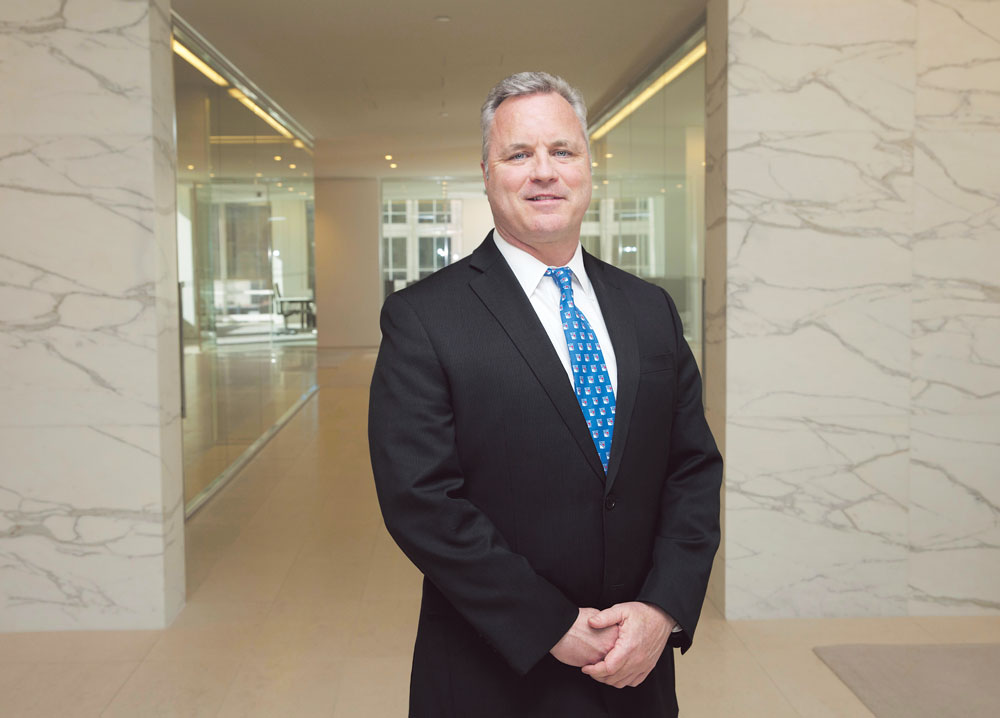 "People are starting to see that it's all happening," Brookfield's Jerry Larkin, the director of leasing at the firm, told Commercial Observer. "We're basically talking to every type of tenant out there."
Over the past several weeks, Mr. Larkin has ramped up his efforts, running dozens of potential tenants through two marketing suites located at Brookfield's Grace Building at 1114 Avenue of the Americas as well as their downtown headquarters, giving potential tenants a glimpse into the colossal project with 3D models and virtual presentations.
"Firms now are looking to work in a more collaborative environment, so we're building a very collaboration-friendly building with high ceilings, floor-to-ceiling glass, column-free spacing and all the technological features a tenant in today's market is looking for," he said.
The building at 1 Manhattan West, at the corner of Ninth Avenue and 33rd Street, will be a 2-million-plus-square-foot, 67-story building. It will feature column-free floor plates between 33,000 and 38,000 square feet, with "a beautiful, generous lobby with 50-foot soaring ceilings," glass frontage along Ninth Avenue, and "an opportunity for someone to brand the Hudson Yards district as the first building they will see as they are coming over."
"We want to make it as easy for our prospects to understand what our dream is, and hopefully we land the big one," Mr. Larkin said. "I'm not sure who it's going to be, but it will be a household name for people in New York City and it will be of the first-class nature of the project."
In addition to 1 Manhattan West, the project will include another office tower of similar size, design and scope, a residential tower, a landscaped two-acre plaza and 200,000 square feet of retail split between the new development and the $200 million redevelopment of 450 West 33rd Street. A residential building, the first on the new construction agenda, will rise 60 stories, with 800 to 900 units. A five-star boutique hotel will feature a 9,000-square-foot rooftop garden and signature restaurants.
"We know that our bread and butter is the office space above, so the most important thing is to get the right mix [of retail] that doesn't take away from the office space and provides all the amenities that tenants need," Mr. Larkin said.
Plans also are in place to integrate the 1.8-million-square-foot 450 West 33rd Street into the complex, which is expected to be complete before any of the new construction starts in early 2016. The modernization includes exterior re-cladding, a new lobby, new mechanicals and elevator upgrades to create "an inspiring workspace full of natural light."
"Today, it is not a very attractive building," Mr. Larkin admitted. But when the redevelopment is through, he said, "it will be the most modern 100,000-square-foot-plus floor plate building in Manhattan," noting the dearth of modern floor plates of this size in Manhattan.
The anticipated result, with an additional mix of luxury and "aspirational" retail, restaurants and cafés, is not unlike the concept at Brookfield Place, currently in the limelight as it undergoes its own transformation. It epitomizes just about everything a development firm could ask for in a densely packed Manhattan market,  offering tenants, New Yorkers and tourists free waterfront concerts and an upcoming luxury retail lineup.
"We are creating the same type of community feeling with all the amenities, public spaces, communal areas and retail on the scale of Brookfield Place," Mr. Larkin said. "We've had Elton John perform, Bruce Springsteen perform, Bob Dylan, B.B. King, Buddy Guy and many other different types of events, and we're going to take those uptown to Manhattan West as well to create a sense of community for the tenants and the residents."
Brookfield Office Properties and other major developers, most notably Related Companies at Hudson Yards, are betting big on the Far West Side. They look to the success of the High Line, proximity to public transportation and the city's investment in additional infrastructure—like the extension of the 7 subway line and planned changes to the Moynihan Station—as the fodder that will support growth and make the Hudson Yards district. Mr. Larkin anticipates a booming addition to a metropolis now filled mostly with aging buildings.
"It is obviously the neighborhood of the future because of how young the office stock is going to be," he said. "If you think about Midtown Manhattan, the average age of the office stock is between 50 and 70 years old.
"You couple that with the huge increases of residents moving into the neighborhood and that brings in the retail, the restaurants, the nightlife, the shopping, all to create a dynamic and vibrant neighborhood."
Mr. Larken has been on board at Brookfield since 1997, and as senior vice president and director of leasing for the firm's New York and Boston portfolio he said he has overseen some 21 million square feet of office leasing that in part spans Manhattan, with key holdings in all three major submarkets.
The firm's prominent Midtown holdings include the Grace Building, 245 Park Avenue and 300 Madison Avenue. While Brookfield has most notably made headlines for the work unfolding at Brookfield Place, Mr. Larkin said his entire portfolio's performance is nearly eclipsing pre-recession levels.
Most recently, Macmillan Publishers took a 176,000-square-foot lease at Brookfield Office Properties' 1 New York Plaza, as Commercial Observer first reported, following a high-profile Revlon lease at the same building. The College Board moved to Brookfield Place earlier this year.
Last year, Wisdom Tree took nearly 40,000 square feet at 245 Park Avenue, and the international law firm Jones Day took a whopping 330,000 square feet at 4 Brookfield Place and Bane & Co. relocated with a 100,000-square-foot lease at the Grace Building.
"The amount of activity over the last few years has been amazing, especially at the Grace Building," Mr. Larken said. "We came out of the recession in '08 and '09 and our rents have probably doubled since then."
Midtown South has garnered much attention and, more recently, Downtown Manhattan has experienced an unprecedented comeback and transformation teeming with residential and commercial growth that makes it much more than just a value alternative. But Midtown arguably remains the most sought-after area by global investors and still, by far, the most expensive of the submarkets, with the latest data from Cassidy Turley showing average pricing increasing an additional $0 .75 to $81.63 in March. A well-balanced portfolio stands to benefit.
"In all of our markets we now have tenants competing for space and this is the busiest we've been since 2008," Mr. Larkin said. "We did two million square feet last year and we're probably going to surpass that this year."
1 Manhattan West
,
1114 Avenue of the America
,
245 Park Avenue
,
300 Madison Avenue
,
450 West 33rd Street
,
Hudson Yards
,
Jerry Larkin
,
Macmillan Publishers
,
Manhattan West
,
Moynihan Station
,
Revlon
,
The Launcher
,
W.R. Grace Building
,
Brookfield
,
Related Companies