Old New York: The former Alhambra Ballroom at 2116 Adam Clayton Powell Boulevard
---
---

1902
Architect John Bailey McElfatrick designs a new vaudeville theater in Harlem, part of his work on more than 100 theaters nationally. Developer Harlem Auditorium Amusement Company announces the theater, at 2116 Adam Clayton Powell Boulevard, which will open the following March. 
1905
Orpheum Amusement Company acquires the property after construction stalls due to litigation. The theater, now called the Harlem Alhambra, opens for the spring season. 
1926
The venue starts showing movies and is renovated- to host concerts. Performers such as Billie Holliday, Bessie Smith and Duke Ellington make appearances. The Alahambra becomes one of the landmarks of the Harlem Renaissance and Jazz Age, along with nearby establishments like the Apollo Theater and the Lenox Lounge. 
1932
The theater and dance hall closes under financial strain during the Great Depression. The property is converted into offices, and falls into disrepair by 1970.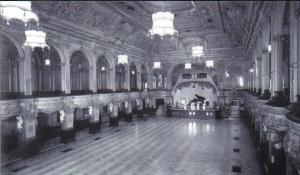 1971-1988
Two grandly named religious groups—the Most Worshipful King Solomon Grand Lodge Inc. and Star of Hope Grand Chapter, Order of Eastern Star—buy the property for an unlisted amount in 1971, hoping to renovate it and make it their headquarters, but those plans never materialize. A Department of Motor Vehicles office opens in the building temporarily. The next owner, Kisosoh Realty Corp., closes a $2.4 million mortgage on the property from Freedom National Bank of New York in 1988.
2000
New Jersey-based developer Mitchell Enterprises buys the property for an unlisted amount. That same year, German artist Ingo Maurer designs a light show for the now-abandoned theater space. 
2003-2012
After civic groups push for the restoration of the historic property, the Alhambra Ballroom reopens in 2003. Later in the decade, Harlem Lanes bowling alley and a soul-food restaurant operate briefly in the space, but both later close. Landlord Mitchell Enterprises closes a $8 million mortgage on the property from North Fork Bank.
2014
In February, Jem Realty Management buys the seven-story office building for $21.5 million. Jem takes a $12 million mortgage from Signature Bank, which it plans to use to renovate the building and attract new tenants.