Pop-Up Shop Village Coming to Northside Festival [Updated]
---
---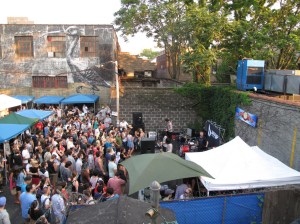 Northside Festival will have its first-ever pop-up shop village at the annual Brooklyn summer event, Commercial Observer has learned.
For the first four days of the June festival, six retailers will be able to showcase their wares at Northside Pop-Up Shop Village presented by commerce platform Shopify, in a 400-square-foot, fully customizable space in McCarren Park, Storefront, the platform that is being used to facilitate the renting of the pop-up spaces, announced. 
Reservations for the four days spanning June 12 to 15 are available through Storefront, a marketplace that connects merchants with retail spaces. The price of the space, at 167 North 12th Street, is $6,000. Two retailers that have already booked space are Zady and Starling.
The Northside Festival, launched in 2009, is an annual eight-day summer showcase celebrating emerging music, innovation and film. It draws nearly 100,000 attendees. The festival is held at more than 50 venues in Williamsburg and Greenpoint and is organized by Northside Media Group, the publisher of The L Magazine and Brooklyn Magazine.
Update: This story was edited to include the names of two retailers that have booked space at Pop-Up Shop Village as well as more details about Storefront and Shopify.