MoMA Files $1.6M Plan to Raze Folk Art Building
---
---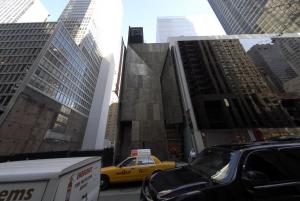 The Museum of Modern Art has filed an application with the city's Department of Buildings for what amounts to a $1.6 million demolition job at the former American Folk Art Museum site on West 53rd Street.
The major alteration application, filed last Friday, calls for a series of jobs including removal of all above-grade stories, plumbing fixtures and piping as well as the mechanical equipment. The DOB plans come about a year after the museum announced its intention to demolish the folk art building, at 45 West 53rd Street between Fifth Avenue and Avenue of the Americas. Architecture firm The Mufson Partnership, led by designer Christina Powaday, is handling the project.
Following much protestation and controversy over the building's demolition, MoMA called for the restoration of the 82-foot-high sculptural ensemble of 63 panels, which make up the majority of the facade of the Tod Williams Billie Tsie Architects-designed folk art building, the New York Times previously reported. The rest of the building will be demolished and the replacement structure will link with existing MoMA galleries as well as with space to the west that MoMA owns, three floors of a residential tower being developed by Hines at 53 West 53rd Street. The project is slated for a 2018 or 2019 completion and includes a MoMA building redesign. The 40,000-square-foot expansion, including 14,000 square feet in the new folk art museum building, will allow the museum to improve public accessibility in its public spaces and galleries and allow the museum to reconceive the presentation of its collection and exhibitions.
MoMA purchased 45 West 53rd Street for $31.2 million in 2011. American Folk Art Museum opened in 2001 next to MoMA's space at 11 West 53rd Street, but the American Folk Art Museum fell on hard times, sold the building and downsized to 2 Lincoln Square.
Other than MoMA confirming some facts and sending a link to a statement the museum issued when the final plans for the folk art museum site were announced in January, the museum declined to comment. Ms. Powaday wasn't immediately available for comment.