Itzhaki Properties Arranges $3.25M Ridgewood Sale
---
---
Itzhaki Properties  has arranged the sale of a mixed-use building located at 5823-25 Myrtle Avenue in Ridgewood, Queens for $3.25 million.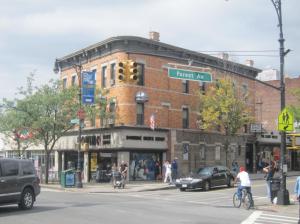 The three-story, 4,264-square-foot property, consisting of five residential units and five commercial units, including a men's clothing store and a dentist office,  has 11,688 of buildable square feet and will be delivered vacant.
"The Ridgewood neighborhood is on the rise and everyone is taking note," said Baruch Edelkopf, sales associate with Itzhaki Properties, in a statement. "Many investors are now looking at Ridgewood as the next lucrative real estate marketplace, and based on our recent transactions we have to agree."
Itzhaki Properties CEO Yona Edelkopf representing the buyer, while Mr. Edelkopf and Mike Rybinskov represented the seller.
The firm has sold more than ten properties in Ridgewood, Queens over the past two years, the firm said in a statement, including the recent $10 million sale of 42 Hampton Street.
Ridgewood borders the neighborhoods of Maspeth, Middle Village and Glendale in Queens, and also borders the Brooklyn neighborhoods of Bushwick and South Williamsburg.