Central Park To Offer Free Wi-Fi to Visitors
---
---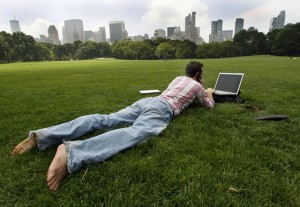 Joggers and dog walkers no longer have to leave their tech-savvy ways at home when visiting the park. Central Park is providing free Wi-Fi for its 25 million annual visitors as a part of a deal between New York City's Parks and Recreation department and AT&T. The four Wi-Fi locations within the park include Mineral Springs Pavilion between 69th and 70th Streets near Sheep's Meadow, Rumsey Playfield near the summer concert stage, The Central Park Zoo, and Tavern on the Green restaurant near Central Park West.
The free Wi-Fi for Rumsey Playfield is the only location in Central Park with seasonal wireless. This area will offer the service only during the summer months. The rest of the Wi-Fi locations are provided throughout the year. Park visitors log on to the Wi-Fi without creating a user name or password.
Central Park is not the only location of the city with free wirless. The New York City's Mayors office has been working with companies and organizations over the past several years to provide free connectivity across the city for tourists and residents. Brooklyn and Harlem are among the areas with large free Wi-Fi zones. Wireless providers including Verizon, Sprint and T-Mobile are providing Wi-Fi connectivity for its customers at select train stations in New York City's subway system.