RFR Picks Up Macklowe's East 72nd Street Retail Condo for $19.9M
---
---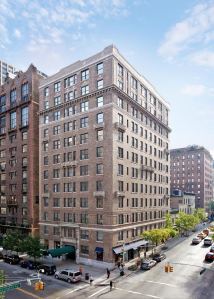 Macklowe Properties has sold the retail condominium at the base of its residential condominium conversion at 150 East 72nd Street to RFR Realty for $19.9 million, Cushman & Wakefield, the firm that represented Macklowe in the deal, announced.
The building, on the southeast corner of Lexington and 72nd Street, is configured as four individual retail storefronts, totaling 4,000 square feet of ground floor space with 900 square feet of below-grade space and more than 150 feet of retail frontage on two major thoroughfares.
Cushman & Wakefield New York Capital Markets' Helen Hwang, Nat Rockett, Steve Kohn, Karen Wiedenmann and John LiGreci represented Macklowe in the deal, which closed Feb. 28. It wasn't immediately clear who represented RFR.
"With in-place leases rolling in mid-2014, the investor has the rare opportunity to realize a prime-luxury vision for the retail unit," Ms. Hwang said in a prepared statement.
Macklowe acquired the entire Renaissance Revival building in 2011 for $70 million and Handel Architects and Moed de Armas & Shannon were tapped to redesign the building.
150 East 72nd Street
,
Cushman & Wakefield
,
Handel Architects
,
Helen Hwang
,
John LiGreci
,
Karen Wiedenmann
,
Macklowe Properties
,
Moed de Armas & Shannon
,
Nat Rockett
,
RFR Realty
,
Steven Kohn