Rabbi Pinto's UWS Synagogue Site Hits the Market
---
---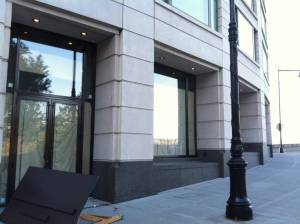 Ilan Bracha, the founder of Keller Williams NYC, has listed an Upper West Side commercial unit for sale that was supposed to be the home of Rabbi Yishayahu Yosef Pinto's Shuva Israel West Synagogue, Commercial Observer has learned.
The space, a 2,786-square-foot unit at Heritage at Trump Place at 240 Riverside Boulevard, is on the market for $1.75 million, according to a listing on Keller Williams' website. It includes a private entrance on 72nd Street.
B+B Investment Group, which was co-founded by Mr. Bracha and Haim Binstock, purchased the ground-floor retail space in 2008 for $1.65 million with the intention of donating it to Mr. Pinto, a rabbi-to-the-real estate community, to serve as a second Manhattan space for his followers. But the the Upper West Side synagogue has been rife with troubles.
For example, the condo board obtained a judgment against Messers. Bracha and Binstock in 2010 for failing to pay common charges, interest and other fees and at the end of that year started foreclosing on the property, The Wall Street Journal reported. Then in May 2011, Bank of America initiated $1.2 million in foreclosure proceedings against the rabbi and Messers. Bracha and Binstock at Heritage at Trump Plaza.
Four years ago, Messers. Bracha and Binstock held the first annual fundraiser for Shuva Israel West Synagogue, as The Real Deal reported (in an article this reporter wrote).
Mr. Pinto may also be losing his existing East Midtown synagogue.
The Real Deal reported earlier today a suit to foreclose on $20 million in loans at Shuva Israel, Mr. Pinto's East Side synagogue at 122 East 58th Street.
Mr. Bracha did not immediately respond to a request for comment.