Prospect Park Ice Skating Rink Going Roller [Updated]
---
---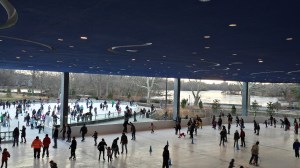 One of the ice skating rinks at the $74 million restored and redesigned Samuel J. and Ethel LeFrak Center at Lakeside in Prospect Park is being converted to a roller skating rink and will open to the public on April 12, Commercial Observer has learned.
The elliptical-shaped rinks (one covered and one not, with a combined footprint of 32,000 square feet and connected via a skating path) will officially close to ice skating this Sunday and transition of the 16,000-square-foot covered rink to roller skating will formally commence on Monday. While the outdoor rink may be used for roller skating at times, it will primarily be used for seasonal programming.
Following the opening of the new roller skating rink, the public-private park's management company, Upsilon Ventures, will unveil a state-of-the-art water play pavilion, lake activities (motor and row-boat activities) and picnic areas, Upsilon indicated.
These projects are part of Prospect Park Alliance and New York City Department of Parks & Recreation's efforts to boost Prospect Park as a community hub with curated programming and entertainment. The $74 million job included restoration of landscaping and improved park access at the southeast corner of the park, which initially opened in the late 19th century.
The site is home to a cafe and event space. Upsilon Ventures, the project development, marketing, hospitality and production firm behind Winter Village at Bryant Park, opened the 26-acre year-round recreational facility in December. It was designed by Tod Williams Billie Tsien Architects along with the Prospect Park Alliance's lead landscape architect Christian Zimmerman.
Update: This story was edited to reflect a change in opening date for the roller skating rink.