Murray Hill Manor Receives State Farm Loan
---
---
State Farm Realty Mortgage provided a $30 million leasehold mortgage to the family-owned real estate firm the Zucker Organization for its Murray Hill Manor rental building at 166 East 34th Street in Manhattan.
The deal closed on March 6 and hit public records this week. Since the loan is a leasehold mortgage, the lender, listed as State Farm Senior Investment Officer John Higgins, can take ownership of the building if the borrower defaults.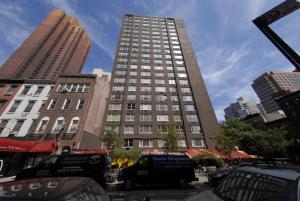 The luxury rental property, which was built in 1975, contains 21 floors, each with 11 apartments. Developer Donald Zucker acquired the property in December 1996 for an undisclosed price.
A studio apartment in the building costs $2,300, while a two-bedroom apartment costs $4,000, according to the property's website.
The Zucker Organization owns and operates nearly 3,000 apartments in the New York area, including Brooklyn Heights and the Flatiron district.
Bloomington-Il.-based State Farm confirmed the amount of the loan, but declined to provide further details. Laurie Zucker, vice chairwoman of the Zucker Organization and Mr. Zucker's daughter, declined to comment though a spokesperson.