Midtown South's Rising Stars
---
---
Walk north on Broadway from Madison Square Park, and it's hard to fathom that some of the highest retail rents in the city are paid just a few blocks away. Generic retailers with names like Fashion City, Master Clothing and Lucky Trading are more reminiscent of the Garment District to the north and Canal Street to the south than they are of big names on Fifth Avenue.
In the office space above those retailers, multiple tenants crowd single floors. It's a far cry from the soaring ceilings and open layouts most commonly associated with tech-heavy Midtown South. Still, it's a landlord's market, and the buildings along the Broadway corridor are 95 percent leased and command rent in excess of $50 per square foot.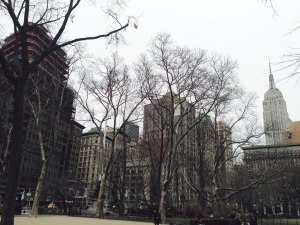 The value proposition in Midtown South, the go-to destination for the city's tech and media companies, shrinks by the day. Tenants looking to pay under the submarket's average office rental rate of $60 per square foot are being forced to look on the periphery.
"The value is gone, and the beneficiaries are the areas outside Midtown South proper," Justin Halpern, a senior adviser with Cresa, told Commercial Observer last week.
Mr. Halpern described 'Midtown South-proper, the most desirable location in the submarket, as Fifth Avenue below 23rd Street. He concedes, however, that only the most established tech companies can afford to pay the rents there.
"When you're seeing deals at buildings like 114 Fifth Avenue and 130 Fifth Avenue starting in the mid $60s and low $70s in certain cases, the companies that are doing those types of deals are companies like Mashable and Spotify," he said.
While Broadway might represent a minor value play in the near term, landlords are expected to capitalize on the ever-increasing popularity of Midtown South, first with retail tenants and then with office tenants.
"Broadway is going to be driven in large part by the retail play and how that changes over time, and it will," said Jamie Katcher, a senior director at Cushman & Wakefield.
Retail rents along Broadway can more than triple when a space is leased to a new tenant, in some cases jumping from $60 per square foot to in excess of $300 per square. The buildings themselves are changing hands as owners—wholesale retailers in many cases—cash in on increasing investor demand.
"There's no doubt in the next few years that this is going to one of the top destinations in the city for retail," said Alexander Hill, a senior director at Eastern Consolidated. "It's going to change so quickly."
"Out of all the areas, Broadway has the most potential for upside," he noted. "It would be on the top of my list of any place in Midtown South."
The question persists of whether the Midtown South market model, with century-old Class B buildings commanding rents upward of $60 per square foot, is sustainable. Even though tenants aren't getting as much bang for their buck in Midtown South, perception continues to trump aesthetics.
"There is still a discrepancy between what tenants are paying and what they're getting," Mr. Halpern said. "But tenants will pay because it's part of their corporate culture, it's the product they wan, and it's not looked at as a drawback. To that end, I think it's sustainable, because there's no new product."
Well, almost no new product. Even as rents for Class B space escalate in to the upper reaches of double-digit territory, Midtown South's first modern Class A building is commanding triple-digit rents. Edward Minskoff's 51 Astor Place development has challenged the Plaza District's most coveted buildings for the distinction of commanding the highest rents in the city.
Though debate persists over classifying 51 Astor, which to the layman is very much located in the East Village, as part of Midtown South, the real estate industry's broad definition of the submarket includes Mr. Minskoff's ambitious development. According to data from Cushman & Wakefield, average rents in the Greenwich/Noho neighborhood are in excess of $111 per square foot. That massive number is due in very large part to 51 Astor Place, a building famously constructed on spec without an anchor tenant.
"It just goes to show how much that space is really driving those rents," Don Noland, a managing director of research at Cushman & Wakefield, said. "They're basically the most expensive rents in the city on a per square foot basis, eclipsing Fifth Avenue Class A."
Late last month, Mr. Minskoff signed Claren Road Asset Management, a subsidiary of private equity giant the Carlyle Group, to a 25,401-square-foot deal with reported rents of $118 per square foot. Earlier, IBM Watson beat out Twitter for more than 100,000 square feet of space in the building, while Mail Online signed a deal with rent in the high $90s per square foot.
Mr. Minskoff's development can command those rents, because it offers what many other Midtown South buildings can't: new, upscale amenities. The developer's 51 Astor Place boasts outdoor perks such as a private green roof on the fifth floor, a tenant-accessible green roof on the 13th floor and an urban plaza on the corner of Astor Place. The energy-efficient building also features a bicycle storage room with showers, a Web-based service request system, an emergency generator and a state-of-the-art telecommunications system.
The building's newest committed tenant, Claren Road, a long/short credit manager, doesn't fit the common mold of Midtown South tenants. The financial services firm will relocate to 51 Astor from 900 Third Avenue in what could be the start of a southward migration of tenants more typically associated with Midtown.
"Companies are going to go where their employees want to be," Mr. Halpern said. "If this new generation of Wharton and Harvard grads lives in Soho and Chelsea and some of that talent is being pulled by tech firms, you will see more of those moves."
Other brokers argue that Claren Road's lease is the exception rather than the rule, expect larger financial services firms to keep up appearances and triple-digit leases in the Plaza district.
The lack of infrastructure in Midtown South's older building stock is one of the neighborhood's hindrances. Few buildings outside 51 Astor Place can accommodate the types of systems needed by those big financial firms. But further west, Taconic Investment Partners and Thor Equities' 837 Washington Street development is one of the other few buildings garnering interest from boutique financial services firms.
"That building has seen a lot of activity from financial firms, which adds validity to the Claren Road deal, but that's the exception, not the norm," said Adam Ardise, a senior vice president at Cassidy Turley.
Drafts of Midtown South's obituary have been written for months, maybe even years, yet the submarket continues to climb to new heights. Vacancy in Class A and Class B space is at 8 percent, the lowest number in five months, while leasing velocity is up 184 percent year over year, according to Cushman & Wakefield.
As Mr. Noland put it, "It's on fire; there's no other way to say it."
Indeed, the vacancy rate is even lower than the numbers suggest, according to brokers. Some of the submarket's buildings are of such lesser quality that many tenants in the market won't even consider them. Brokers warn that if landlords rest on their laurels they risk becoming irrelevant to tenants.
"We're seeing existing owners and opportunistic owners realize that the needs of the tenant base are changing and the buildings have to come up to speed with that," Mr. Ardise noted. "They either change or risk becoming functionally obsolete to the tenant base."