Manhattan's Hotel Project Pipeline Climbs
---
---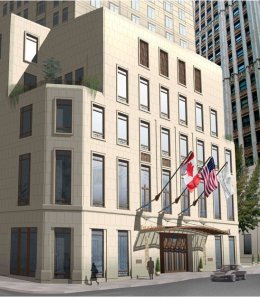 The number of hotels in Manhattan's pipeline has gone up this year compared with last year, while the room count has dropped, according to new data.
Manhattan has 79 hotels with 15,071 rooms in the planning stages, final planning stages or construction as of February, according to statistics provided by lodging industry benchmarking services firm STR to Commercial Observer. That includes 43 that are in construction. Meanwhile, the number of active hotels in February 2013 was 71, but the number of hotel rooms was 15,133.
"Depending on how fast hotels open versus how many new hotels enter the pipeline, the number of hotels and projects can vary a lot month to month," said Sean Hennessey, the founder and chief executive officer of Lodging Advisors, which provides counseling services to key players in the hotel industry. 
The three biggest Manhattan hotels in development are the 600-room Riu Plaza Times Square at 46th Street and Eighth Avenue, a 600-room Pod Hotel at 400 West 42nd Street and the 490-room Holiday Inn at 99 Washington Street, Mr. Hennessey said. A couple other hotels of note in the works are: Silverstein Properties' 189-key Four Seasons Hotel, which will occupy the first 21 floors of the 82-story tower at 30 Park Place; and McSam Hotel Group's 29-story, 231-room Hilton Hotel at 6 Water Street. 
The outer boroughs show mixed results.
In Brooklyn, the number of active projects ticked up one project from a month prior to 23 with 2,208 rooms, and jumped from the same month last year, when there were 17 hotels with 1,570 rooms in the pipeline.
The Queens count is flat year-over-year, at one active project with 143 rooms, the data indicate.
In the Bronx, the pipeline shrunk a tad to eight active hotel projects with 494 rooms from nine in February 2013 with 555 rooms (although STR does not know about projects in the planning stage in the borough this year).
As for Staten Island, there were two active hotel projects with 309 rooms versus February 2013's three with 511 rooms.
30 Park Place
,
400 West 42nd Street
,
6 Water Street
,
99 Washington Street
,
Four Seasons Hotel
,
Hilton Hotel
,
Holiday Inn
,
Lodging Advisors
,
McSam Hotel Group
,
Riu Plaza Times Square
,
Sean Hennessey
,
STR
,
Silverstein Properties