Federal Investigators Find Potential Cause of Deadly East Harlem Explosion
---
---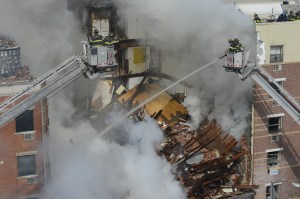 The National Transportation Safety Board found a leak in a natural gas pipeline next to the two buildings that were leveled by a fatal East Harlem explosion last week.
The eight-inch main pipeline failed a pressure test, the NTSB said in a statement yesterday, as reported by Bloomberg. Parts of that pipeline are 120 years old.
"The leak is a potential cause of the accident and something investigators will be looking at," Brigham McCown, an industry consultant and former acting administrator of the Pipeline and Hazardous Materials Safety Administration, told Bloomberg. "It suggests a path for natural gas to potentially escape and pool."
As Commercial Observer previously reported, a massive explosion last Wednesday morning flattened 1644 and 1646 Park Avenue, killing eight people and injuring more than 50.
Consolidated Edison workers reportedly found gas in the ground in the area after the explosion. The investigation is still ongoing.