Dan Rather Inks New Office Lease at 1180 Avenue of the Americas
---
---
Veteran journalist Dan Rather is relocating his offices to 1180 Avenue of the Americas after cutting a 4,479-square-foot lease for a rectangular pre-built space on the building's 18th floor.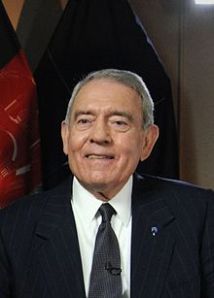 The 82-year-old journalist and current host of "Dan Rather Reports," which airs on cable channel AXS TV, will move from his current office at 130 West 42nd Street to the new space on April 1.
"We are thrilled to welcome such an iconic American journalist to the property, and this lease brings the building to full occupancy," Garett Varricchio, who represented building landlord MHP Real Estate Services alongside  Bret Varricchio and James Tamborlane, told the New York Post.  
The 400,000-square-foot building is located on the northeast corner of 46th Street and Avenue of the Americas. Late last year, Scripps Networks Interactive renewed and expanded at the building with a 120,721-square-foot lease that consolidated its space on the 11th, 12th, 16th and 17th floors into the 14th and 15th floors at new, higher rents. Rents were undisclosed at the time, though asking rents for future availabilities at the property reportedly range from the high $50s to $65 per square foot.     
Mr. Rather anchored the CBS Evening News for 24 years, having made his debut as the replacement for Walter Cronkite in 1981 and holding that post until March 2005. He was also a contributer on CBS's 60 Minutes. John Moran of Newmark Grubb Knight Frank represented Mr. Rather in the lease. 
1180 Avenue of the Americas
,
130 West 42nd Street
,
AXS TV
,
Bret Varricchio
,
Dan Rather
,
Garett Varrichhio
,
James Tamborlane
,
john moran
,
MHP Real Estate Services
,
Newmark Knight Frank
,
Scripps Networks Interactive