Auction.com Gets $50M Investment from Google Capital
---
---
Google Capital, a growth equity fund backed by internet giant Google, has invested $50 million in Auction.com. The investment values the online real estate marketplace at $1.2 billion. 
Google Capital joins a list of prominent shareholders in Auction.com, including Starwood Capital Group, Starwood Property Trust, Stone Point Capital and funds managed by Fortress Investment Group. As part of Google Capital's investment, a representative of the fund will join Auction.com's Board of Directors and an additional representative will assume a board observer position.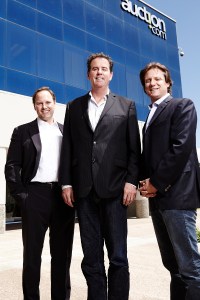 "Auction.com has quietly built one of the largest marketplaces on the web," said David Lawee, a partner at Google Capital, in a prepared statement. "We think Auction.com can fundamentally change how real estate, and particularly commercial real estate, can be bought and sold, leveling the playing field for smaller investors."
As reported by Mortgage Observer last year, Auction.com has sold over 100,000 properties for a combined total of more than $26 billion since holding its first auction in 2007. Headquartered in Irvine, Calif., the company also operates offices in Atlanta, Austin, Denver, Miami and Newport Beach.
"Over $7 billion of commercial and residential real estate traded through our online marketplace in 2013, and we believe that having Google Capital's support will help us expand our industry leadership, and carve out a bigger share of the global real estate market," Jeff Frieden, the chief executive and co-founder of Auction.com, added in a statement.
Established by Google in 2013 but not disclosed until last month, Google Capital previously invested in Survey Monkey, Lending Club and Renaissance Learning.