World Trade Center's PATH Concourse Unveiled
---
---
The Port Authority of New York and New Jersey has officially opened the first platform of the new World Trade Center PATH station.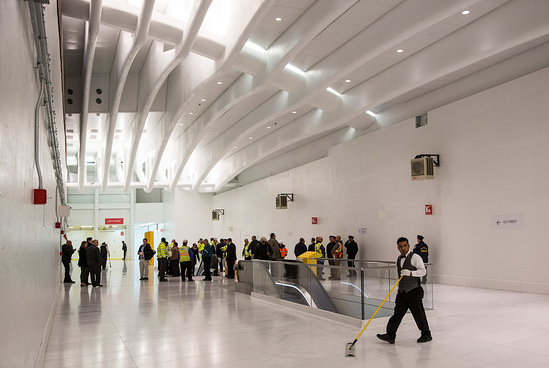 The new station, Platform A, will ultimately replace the interim station currently serving riders at the World Trade Center and is the centerpiece of the approximately $4 billion transportation hub project occurring at the site, the Wall Street Journal reported.
It will feature "modern lighting, illuminated signs and public address systems," according to the Port Authority, and eventually an airy main hall designed by architect Santiago Calatrava, underground connections to offices and retail across West Street as well as nearby subway stations to the east.
The Port Authority, which owns the World Trade Center site and operates the PATH rail system between Manhattan and New Jersey, will open the hub in phases as construction on the skeleton-like "oculus" continues.
The West Concourse, linking the temporary PATH station to Brookfield Place, opened last year. It is a 600-foot underground concourse, within the 800,000-square-foot transportation hub, that features 40,000 square feet of Italian marble, will house stores and restaurants on two levels. The Port Authority of New York & New Jersey is partnering with Westfield Group to develop its more than 350,000 square feet of retail.
The Federal Transit Administration originally projected a 2009 completion date, but the building is now scheduled for completion in 2015.