Welcome to the Big Leagues: Andrew Scandalios Makes HFF a Contender
---
---
With competitors like CBRE and Eastdil Secured seemingly closing deals on high-quality institutional assets every week, HFF's New York office could be forgiven for operating with an inferiority complex when it comes to the Big Apple's investment sales market. But in a testament to the firm's commitment to steady growth, the Houston, Texas-based real estate firm is slowly but surely catching up to its more high-profile competition in the city.
Since closing just $700 million in regional business in 2010, $400 million of which was in New York City, HFF's investment sales group has grown by nearly 200 percent, to $1.2 billion of business in the New York market last year.
At the head of it all is Andrew Scandalios, the senior managing director and newly minted co-head of HFF's New York office, who is keen to see the business continue to grow.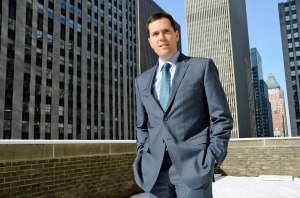 "The expectation is we will grow and we are going to target bigger deals going forward while maintaining our middle market focus of $50 million to $200 million deals," he said during an interview with Commercial Observer at his office at 50 Rockefeller Plaza.
Mr. Scandalios arrived at HFF in 2001 after stints at Rockwood Realty and UBS Asset Management, where he assisted foreign investors in acquiring national properties, including an office building in Washington, D.C., a multifamily development in California and a regional mall on Long Island. All told, Mr. Scandalios closed between $2 billion and $3 billion worth of deals over a three-year period.
In his early years at HFF, Mr. Scandalios focused largely on the firm's national business. By his estimation, from 2001 through 2008, only one third of the company's business was done in the local market. Beginning in 2008, Mr. Scandalios began to hone in on the metro region.
From the $400 million of deals closed in New York in 2010, HFF's business in the market grew to $700 million in 2011, then $829 million in 2012, before topping out at $1.2 billion last year.
The firm is targeting more prominent deals in the city, the type normally associated with the likes of Adam Spies and Doug Harmon at Eastdil Secured or Darcy Stacom and Bill Shanahan at CBRE. Though the firm is optimistic, HFF is also realistic about the task ahead.
"The competitors in New York City are tough. It's a very competitive market," Mr. Scandalious conceded. "Eastdil and CB have long track records transacting in this market. And building market share from zero, which is where we were, takes work."
Though HFF is still playing catch-up with the big boys, the firm is gaining ground. While Eastdil Secured and CBRE battled for the top broker title last year, registering 24.9 percent and 24.2 percent market share, respectively, according to Real Estate Alert, HFF has put the perennial front-runners on notice. In 2013, the firm's national market share hit 14.9 percent.
While HFF hasn't yet grabbed that signature office tower assignment, the firm does have a significant track record in closing Manhattan development site deals. Although perhaps not of the same marquee class as some of CBRE's and Eastdil's more prominent assignments, HFF's development sites are still a differentiator in a crowded market.
Last year, HFF brought a number of West Side sites to market, including a 20,083-square-foot residential development opportunity at 505-511 West 43rd Street and a 7,583-square-foot hotel or residential development site at 140-144 West 28th Street. The firm closed on the sale of 140 West 28th Street for $42.8 million last month.
The office and retail markets have been pinpointed as the most likely areas for growth. And late last year, the investment sales group signaled this intention by representing The Klein Group in the $50 million sale of a retail condominium at 200 West End Avenue.
In early 2014, however, it's a residential assignment that is garnering the firm attention. HFF is marketing a 361-unit luxury residential property on the Lower East Side: Avalon Chrystie Place, at 229 Chrystie Street, is another in a steady stream of listings being marketed by HFF for AvalonBay Communities. The property, which also includes a 72,000-square-foot retail space occupied by Whole Foods, could attract bids as high as $400 million, according to a January report by Real Estate Alert.
Last year, AvalonBay tapped HFF to market Avalon on the Sound East, a 588-unit, multihousing tower in New Rochelle, to DSF Group for $210 million. Mr. Scandalios led the effort alongside colleague José Cruz, who joined HFF from Cushman & Wakefield in 2010.
"Avalon is a very large client of ours, and José has handled an assignment in New Jersey for them," Mr. Scandalios said. "I led the Westchester deal, but José was right there."
Mr. Scandalios hinted at a number of higher profile office property assignments in the pipeline but, when pushed, declined to elaborate on them. Among HFF's other notable clients are BlackRock, Carlyle, Blackstone, TIAA-CREF, Prudential Realty and a host of other prominent institutional investors.
"The business from Philly to Hartford is client-centric," he explained. "It's relationship-oriented."
HFF's investment sales business is bolstered by the firm's financing capabilities, a service line that has been a prominent component of the company's growing reputation in New York. In addition to equity placement capabilities, HFF's New York office, which the Texas-based mortgage banking firm opened in 1996, offers debt placement. As reported by Mortgage Observer, since founding the New York office, HFF grew its annual debt business from $600 million to $3.6 billion at year-end 2012, and it continues to rise.
It's the equity business, however, that most excites Mr. Scandalios.
"I love the equity part of it," he said. "It's a little tougher, it's a little more interesting, and raising equity is a distinguishing characteristic. It's a way for us to leverage our way into the market without the transactional history."
To bolster HFF's sales capabilities, Mr. Scandalios, who now leads the New York office with Mike Tepedino, is keen to grow the firm's head count and develop young sales brokers. Mr. Scandalios equates the brokerage business to hand-to-hand combat and stresses that not everyone is cut out for the job. It's not often, he admits, that street brokerage skills meld with an institutional understanding of property values.
"Understanding what value is and where you can push is the art," he said. "We bring an institutional underwriting approach to everything we do. We understand who the buyers are, but you also need people on the ground."
His new role as the co-head of the office adds more administrative duties to Mr. Scandalios' day-to-day responsibilities, but he is keen to continue his activity on the transactional side of the business. Growing the head count, he says, will help offset some of the workload.
"You have to maintain your transaction responsibilities as leader of the office while growing young producers to transact on smaller deals over time," he said.
Clearly, someone who prefers to look to the future, Mr. Scandalios at first bristled when asked to look back on his career. The thought of pinpointing just one or two memorable deals in a career spanning $16 billion worth of business seemed, at first, to be a pointless exercise. After a pause, however, one deal in particular seemed to jump to his mind.
In the late '90s, as the senior vice president at Rockwood Realty, Mr. Scandalios was part of a team that marketed for the sale of one of the final parcels owned by the John D. and Catherine T. MacArthur Foundation, the well-known benefactor of PBS and other causes. The 15,000-acre parcel was part of a large swath of land amassed by Mr. MacArthur, one of America's wealthiest men, in Palm Beach County, Fla. The land was used in addition to the family's large fortune accumulated in the insurance business to finance the MacArthur Foundation.
"At the foundation, they couldn't actively develop real estate," Mr. Scandalios said about the motivation for the sale. The ensuing transaction, labeled by Mr. Scandalios as a "landmark deal," took over a year to close.
Elsewhere, Mr. Scandalios brokered the sale of a Philadelphia bus depot on behalf of Morgan Stanley. He admitted that it's not always the high-profile transactions—the ones HFF craves—that are the most satisfying.
"Some of the most rewarding deals," he said, "are the smaller deals."