W'burg Retail Building Sales in 2013 Trounce Prior Year
---
---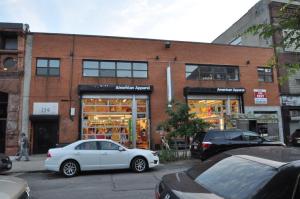 There were four times as many sales of retail buildings in Williamsburg in 2013 than in the prior year, according to data prepared for Commercial Observer by Brooklyn commercial brokerage TerraCRG, and the average price per square foot more than nearly tripled.
There were nine Williamsburg retail building sales last year (in commercially-zoned areas) compared with two in 2012, the data indicate. The average price per square foot of those sales in 2013 was $753.03 versus $273 in 2012.
The thriving Williamsburg retail market can be linked to the influx of residents and skyrocketing residential prices.
"The need for new retail space to accommodate the recent population growth has resulted in increased values for all commercial property, especially retail," said Dan Marks, the vice president of investment sales and leasing at TerraCRG. "We're seeing property owners that would not entertain a sale be more open to the idea now that property values have increased so much due to the demand."  
The nine sales in 2013 were 92-102 North 6th Street (a package of 92 North 6th Street, 94 North 6th Street and 102 North 6th Street) for $49 million; 110-112 North 6th Street for $15 million; 132 Bedford Avenue for $11.22 million; 330-342 Graham Street for $5 million; 267 Broadway for $4.59 million; 845 Grand Street for $3.85 million; 1031 Flushing Avenue for $1.23 million; 453 Broadway for $825,000 and 334 Lorimer Street for $700,000.
In 2012, the two retail sales that transacted were 685 Flushing Avenue for $1.8 million and 50 Lee Avenue for $1.25 million.
102 North 6th Street
,
1031 Flushing Avenue
,
110-112 North 6th Street
,
132 Bedford Avenuen
,
267 Broadway
,
330-342 Graham Street
,
334 Lorimer Street
,
453 Broadway
,
845 Grand Street
,
92 North 6th Street
,
92-102 North 6th Street
,
94 North 6th Street
,
TerraCRG