Tucker Reed Won't Sleep Until Downtown Brooklyn Becomes a 24/7 Community
---
---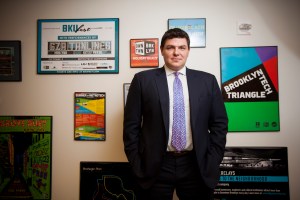 Tucker Reed is sweet on Brooklyn—big time. A resident of Prospect Heights who enjoys frequenting the Barclays Center, the Brooklyn Museum and the Brooklyn Academy of Music, Mr. Reed is a champion of the city's most populous borough. He is a ball of energy as he talks about all of the work the Downtown Brooklyn Partnership has done with him as president for the past two years, from supporting the technology sector with the Brooklyn Tech Triangle Coalition to establishing Downtown Brooklyn as New York City's college town. About a year after Commercial Observer conducted the Sit-Down interview with Mr. Tucker, we wanted to check in and see how the nonprofit has been doing with the reinvention of Downtown Brooklyn.
Commercial Observer: Have you accomplished all that you intended to within the last year?
Mr. Reed: That's right. One year—it's done. That's easy [laughs]. It's certainly on its way. I think 2014 is going to be a very big year for Downtown Brooklyn. If you look at every sector of the market, it's booming. On the residential front, we've got 3,300 units in construction right now. We've got another 9,000 [units] in various stages of either planning or predevelopment. It couldn't be coming at a more opportune time given the housing crisis the city is experiencing. Between now and 2030, the city's expecting another million residents. We don't have enough space to go around. If you really take a hard look at those million people, we're talking about 6,000 people per month over the next 16 years moving to New York City. That means we need to be building 3,000 units a month over the next 16 years to keep up with that future growth. So on the one hand, the housing market is doing really well here—3,300 units in construction. At the same time, that 3,300 represents six weeks of future demand for the city, and we say we're in a housing boom.
On the retail side, we're just seeing more and more new retailers interested in moving to Downtown Brooklyn.
What's happening to the mom-and-pop shops?
We don't have the ability to tell landlords you can have this store but you can't have that one. But at the same time, you see a very thriving small business community on those strips. Everyone talks about how these national retail chains are moving in and, therefore, pricing out the mom-and-pops. The secret about the Fulton Mall—or the reality that gets a lot less play in the media—is that rents have been static since the 1980s. People have been paying $200 or $250 per square foot to be on the mall for decades. And they're still in that range.
Why aren't they going up?
There's still a 10 to 15 percent vacancy rate on the mall. If we ever get to the point that there is 100 percent occupancy, then sure, you're going to start to see the rents climb up a little bit.
What's going on with office space?
Our office vacancy rate has dipped to below 5 percent this past quarter. That's an incredibly low vacancy rate for an office district. We had been at around 10 percent a few years ago. Whereas before we were a back-office home to the finance, insurance and real estate industries and government, now you're finding a lot of firms that want to set up their front-office location here.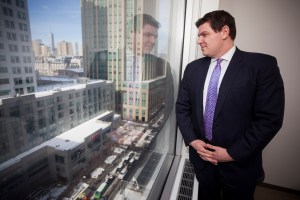 As Commercial Observer reported at the end of last month, the Downtown Brooklyn Partnership named MaryAnne Gilmartin, the president and CEO of Forest City Ratner Companies, and tech leader MakerBot CEO Bre Pettis the new co-chairs of the board of directors. You said that Ms. Gilmartin and Mr. Pettis "embody a new generation of Brooklyn entrepreneurs." What did you mean?
I think what we're seeing now is a whole new generation of companies that are choosing to locate in Brooklyn not because they have to but because they want to be here. They want to be associated with the community that's here. They want to be associated with the great neighborhoods that have taken root. And Bre and Maryanne, to me, really embody that.
What are the top three companies that you'd like to see come to Downtown Brooklyn?
[Laughs.] I'm not going to play that game, and I'll tell you why. I'm not so interested in picking winners like that. I think in some ways our homegrown firms have the ability to become those behemoths that you want to land. There's no reason that an Etsy or MakerBot can't one day be on par with a company like Amazon or Google. Am I going to lose sleep if Google doesn't set up an outpost here? No, because I know there are enough homegrown firms that are expanding here that we're going to be O.K. At the same time, our door is always open to companies that want to move here.
Tell us about other commercial real estate initiatives you have going on.
What we're trying to bring to the table now is public resources to help fuel growth [like] infrastructure investments, [and we are] looking at opportunities for increased public space development. We have a big idea for 21 acres of green space that stretches from Borough Hall all the way to the waterfront in Brooklyn Bridge Park.
One of the other big things that we're focused on here is the academic presence. We've got 11 colleges and universities, 57,000 college students. Eighty-five percent of that community is commuter. It'd be great if there were more dormitory development and more students living in Downtown Brooklyn. [It would] help us achieve this 24/7 community we're looking to build.
Why are you guys calling Downtown Brooklyn New York City's college town if so many of those students don't live here?
I think that 85 percent commuter number is a little bit misleading, because if you go to school in an urban environment, you're a commuter student by definition in a lot of ways. Between the hours of 9 a.m. and 8 p.m. every day, you have some subset of 60,000 kids running around Downtown Brooklyn.
So maybe it's a 9-to-8 college town.
For now, it could be.
What else makes it a college town?
One of the things we're really excited about and are working on now is connecting the schools with the companies that are growing here. There's a homegrown talent pool that just needs to be better educated in the skill sets that they're looking for. So we'd really like to see that ecosystem take growth where the companies [would] have executives sitting on advisory committees or in faculty positions at these schools, educating kids in the programming and technology skill sets that they need for job employment [and] a mentorship or internship network that gets set up.
The Brooklyn Tech Triangle Coalition, of which you were a driving force, seeks to have tech and creative businesses occupying up to 4 million square feet of space in Dumbo, the Brooklyn Navy Yard and Downtown Brooklyn in 2015. How far along are you toward that number?
That number is more the amount of space that the firms that are already in the Tech Triangle are telling us they're going to need to keep up with their growth patterns. In the Brooklyn Tech Triangle as a whole, we have over 20 million square feet of office space. I think you could easily conjecture that 10 to 15 percent of that is already made up of the tech industry. So we are well on our way to the 4 million.
What's going on at the Forest City Ratner-developed Atlantic Yards? Do you think the residential components will be completed, and when?
Yes, the residential component to the project is coming. You already see it going up. They're manufacturing housing components in the Brooklyn Navy Yard, transporting them to Atlantic Yards and building a modular residential tower that will be the first of its kind in the city. And on the side of those modular units there are big "Made in Brooklyn" signs. I love it. A "Made in Brooklyn" product. The brand has resonance, it has power.
Barclays Center has been a huge success, a real validator for Brooklyn in a whole bunch of different ways.
Forest City just went out and made their deal to help finance the rest of the housing developments there. It's a massive undertaking, a large number of units, but based on market economics today and the fact that housing is such a desirable commodity in the city, there's no reason why Forest City isn't going to be developing those housing units as fast as humanly possible.
Are there any big initiatives that we haven't discussed?
We're really excited about the Brooklyn Cultural District, which encompasses BAM, BRIC, Theater for a New Audience, Barclays Center and nearly 40 arts and cultural groups. We want to work there to put in place a streetscape plan that really matches the 21st Century cultural district.
+++++++++++++++++++++++++++++++++++++++++++++++++++
Getting Personal with Tucker Reed
Even though he's not originally from Brooklyn, it seems like Tucker Reed should be stamped with a "Made in Brooklyn" insignia for all his cheerleading as Downtown Brooklyn Partnership's president. So Commercial Observer decided to ask him some more personal questions regarding the borough.
What's the best part of Brooklyn?
For me, it's the ability to live in a city but also be in a calm place. Brooklyn to me embodies living in a community that at the same time still has the energy of an urban lifestyle.
What's your favorite thing to do on the weekends here or in Prospect Heights, where you live?
I love to go to Barclays Center—a Nets game or different performances. I love to go to BAM, and I love to go the Brooklyn Museum. I really like to take advantage of the cultural offerings here.
You're a Brooklyn super fan. I challenge you to say one negative thing about the borough.
I think we have a long way to go on our transit infrastructure. I mean transit infrastructure that is Brooklyn-centric as opposed to Manhattan-centric.
If someone had one day to visit Brooklyn, what are must-sees and must-dos?
Walking over the Brooklyn Bridge. It's the best. I think checking out Dumbo as a neighborhood is amazing, as are Brooklyn Bridge Park, Barclays Center and the cultural district. You could have a whole day where you walk the bridge, go to the waterfront, come into Downtown, go shopping and then end the night just taking in a show over at the cultural district. It would be a great New York City experience.
Amazon
,
Atlantic Yards
,
BAM
,
Barclays Center
,
Bre Pettis
,
BRIC
,
Brooklyn Academy of Music
,
Brooklyn Cultural District
,
Brooklyn Museum
,
Brooklyn Navy Yard
,
Brooklyn Tech Triangle Coalition
,
Downtown Brooklyn Partnership
,
etsy
,
Forest City Ratner Companies
,
Fulton Mall
,
Google
,
Makerbot
,
MaryAnne Gilmartin
,
Nets
,
Prospect Heights
,
Theater for a New Audience
,
Tucker Reed