Series of High-Profile Retail Closures in Village Points To Momentarily Stark Reality
---
---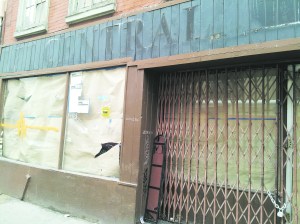 In the world of real estate, as in life, perception is in the eye of the beholder.
The retail market in the West Village and Greenwich Village is no exception, as neighborhood staples close due to rising rents, leaving spaces vacant and landlords searching for high-rent-paying tenants. While neighbors may find the shuttered shops to be eyesores and longtime retail tenants may find the skyrocketing rents unfair, many brokers leasing those spaces are saying it's due to a hot market and the changing nature of the neighborhood.
Among the visibly closed shops on a recent stroll through the West Village and Greenwich Village were Food Emporium at 475 Avenue of the Americas, Bien Cuit Bakery at 35 Christopher Street, Leyla at 84 Seventh Avenue South, Centro Vinoteca at 74 Seventh Avenue South, Mexicana Mama Centro at 47 East 12th Street, Bleecker Street Records at 239 Bleecker Street, Pet Central at 237 Bleecker Street, Slide at 174 Bleecker Street and Crazy Fantasy Tattoo at 333 Avenue of the Americas.
Cara Rosenbloom, a real estate salesperson specializing exclusively in retail for City Connections, said that excluding the Food Emporium, which closed after 50 years at the location once the parent company went out of business, the issue is "pricing." She added, "I think the smaller guys are kind of priced out of the market."
As old tenants leave, rents are jacked up, and landlords are holding out for the highest-paying users.
"I know some are vacant because the landlords are asking for too much rent," said Jeffrey D. Roseman, an executive vice president at Newmark Grubb Knight Frank Retail. And that, he said, is because "that market is very healthy."
A big hit to the area—and one seen as particularly emblematic of the Village's declining quirkiness—was last month's closure of Gray's Papaya at 402 Avenue of the Americas, at Eighth Street, after more than 30 years in business. Owner Nicholas Gray reportedly said it was due to the monthly increase in rent to $50,000 from $30,000 upon lease renewal. Liquiteria, serving cold-pressed juices, will open in the vacated corner spot this summer.
And about a year ago, the beloved Barnes & Noble, at 396 Avenue of the Americas, was pushed out of the prominent, highly trafficked corner across from Gray's Papaya due to "a huge rent hike," in the words of assistant manager Donald Kemp. The bookstore is slated to become a TD Bank next year.
Some of the excitement in the West Village retail market can be attributed to the "Marc Jacobs Effect."
Most recently, Marc Jacobs' beauty store opened at 385 Bleecker Street last August, bringing the upscale designer's Bleecker Street store count to five.
Peter Braus, a managing principal at Lee & Associates NYC, said that Marc Jacobs led the transformation of Bleecker Street into a great fashion corridor. Six or seven major brands followed suit by opening shops on a street that was once synonymous with downtown bohemianism.
"There has been a halo effect on surrounding blocks, though they don't command the rents or cachet that Bleecker does," Mr. Braus said.
Mr. Roseman put the taking rents on Bleecker Street at $350 to $400 per square foot. (No concrete data was available for the area, as the notable big commercial real estate firms that produce data reports do not track retail in the West Village/Greenwich Village.)
He described the retail transformation as "good and bad for the neighborhood."
Residents are not necessarily happy about the influx of tourists and the change in retail makeup, but those tourists have driven business to the restaurants. Another facet is that as prices rise, so do landlords' unrealistic rent expectations.
James Famularo, the director of retail leasing at Eastern Consolidated, said that Chipotle will be opening in two months where Segafredo Zanetti Espresso was at 504 Avenue of the Americas. He said that Superstorm Sandy was just the excuse Segafredo needed to close. With a new tenant came higher rents.
"We signed Segafredo at $31 a foot and Chipotle around $35 or $36," Mr. Famularo said.
Kikkerland Design will be coming to 493 Avenue of the Americas, said Jay Gilbert, a director at Newmark Grubb Knight Frank Retail who is leasing the space at 498 Avenue of the Americas, which was most recently home to a 16 Handles.
Regarding the list of closures Commercial Observer recently noted, Adelaide Polsinelli, a broker who heads the retail sales division at Eastern Consolidated, said: "Most were old leases that have turned. There is a big disconnect between last rent and the current ask. The market will find its equilibrium."
Those closures are deceptive, one broker insinuated.
Steve Rappaport, a senior managing director at Sinvin, who is co-leasing 277 Bleecker Street, said via email that there will be two new tenants at the property: Studio Manhattan, an accessories gallery, and Kryolan, a professional makeup maker.
"So while seemingly there are many empty stores, they are all spoken for," he said. "As a broker who specializes in Bleecker Street in that vicinity, I am constantly deluged by tenants seeking space on the block. My only issue is that there is really none available."
16 Handles
,
174 Bleecker Street
,
237 Bleecker Street
,
239 Bleecker Street
,
277 Bleecker Street
,
333 Avenue of the Americas
,
35 Christopher Street
,
385 Bleecker Street
,
396 Avenue of the Americas
,
402 Avenue of the Americas
,
47 East 12th Street
,
475 Avenue of the Americas
,
493 Avenue of the Americas
,
498 Avenue of the Americas
,
504 Avenue of the Americas
,
74 Seventh Avenue South
,
84 Seventh Avenue South
,
Adelaide Polsinelli
,
Bien Cuit Bakery
,
Bleecker Street Records
,
Cara Rosenbloom
,
Centro Vinoteca
,
Chipotle
,
City Connections Realty
,
Crazy Fantasy Tattoo
,
Donald Kemp
,
Eastern Consolidated
,
Food Emporium
,
Gray's Papaya
,
James Famularo
,
Jay Gilbert
,
Jeffrey Roseman
,
Kikkerland Design
,
Kryolan
,
Lee & Associates NYC
,
Leyla
,
Liquiteria
,
Marc Jacobs
,
Mexicana Mama Centro
,
nBarnes & Noble
,
Newmark Knight Frank
,
Nicholas Gray
,
Pet Central
,
Peter Braus
,
Segafredo Zanetti Espresso
,
Sinvin
,
Slide
,
steve rappaport
,
Studio Manhattan
,
TD Bank