MBA Projects Commercial Loan Originations Will Reach $300 Billion in 2014
---
---
The Mortgage Bankers Association expects commercial and multifamily loan originations to grow 7 percent this year to $300 billion from $280 billion in 2013 and continue to rise to $333 billion in 2016.
Originations of multifamily loans are projected to continue at their current pace of about $116 billion in the years ahead.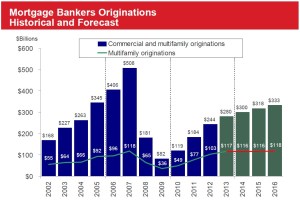 "There is strong appetite among lenders to get money out," Jamie Woodwell, MBA's vice president of commercial real estate research, said at a press lunch in Orlando on Monday. "Last year, we predicted a 11 percent increase in originations. It ended up being a 15 percent increase."
Despite fewer loans coming up against their maturities this year, low interest rates, rebounding property prices and higher loan maturity volumes are all indications that mortgage originations will continue to increase in 2014, Mr. Woodwell noted.
He added that commercial mortgage debt outstanding is expected to grow to nearly $2.6 trillion in 2014, more than 3 percent higher than at the end of last year.
Commercial and multifamily loan originations grew 34 percent between the third and fourth quarters of 2013 and 16 percent compared to the fourth quarter of 2012. That increase marks the highest origination volume since 2007, with all major investor groups seeing an increase in their financing activity at the end of last year.
Between the third and fourth quarters of 2013, CMBS originations rose 35 percent, commercial bank originations rose 44 percent and life company originations rose 8 percent, while GSE and FHA originations rose 48 percent, according to the MBA data.
"Commercial and multifamily borrowing and lending ended 2013 on a particularly strong note," Mr. Woodwell explained.