Judge Blocks RFR's Plans to Remove Picasso, at Least for Now
---
---
A New York State Supreme Court Judge on Friday at least temporarily blocked Aby Rosen's plans to remove Pablo Picasso's "Le Tricorne" from the Four Seasons. 
Mr. Rosen's RFR Holding, owner of the Seagram Building, which holds the Four Seasons, planned to take the century-old painting down to repair a limestone wall behind it, reportedly referred to the painting as "shmatte," or a "rag," in court papers, according to the New York Post.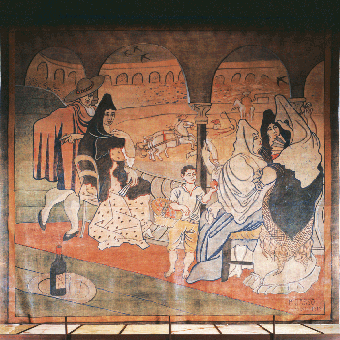 "If we break it, we buy it," Mr. Rosen's lawyer, Andrew Kratenstein, argued. 
But the New York Landmarks Conservancy, which owns the $1.6 million painting, said its removal could destroy the irreplaceable piece, with Judge Cooper ruling similarly that "if something were to occur, no amount of money can make up for the loss of a Picasso."
Until a final ruling is reached, Judge Cooper ruled that the building's owners were "rejoined, restrained and prohibited" from removing the piece without the Conservancy's consent. 
"We believe that moving it would cause irreparable damage and the safest thing to do is leave it where it is," Peg Breen, president of the conservancy, told The New York Times, which first reported on the ruling.
RFR's structural engineers had argued that the wall behind the painting could collapse if not repaired, and RFR later arranged for a moving company to take down the artwork in the early morning hours of February 16. 
"It seems absurd that a work like this would be taken down at 3 a.m. on a Sunday so it can be removed in time for lunch or brunch at the Four Seasons," Judge Cooper said.