TAG Associates Leaving Rock Center for SL Green Building
---
---
Multi-family office and portfolio management firm TAG Associates is relocating its corporate headquarters to SL Green's 810 Seventh Avenue after spending nearly three decades at Rockefeller Center.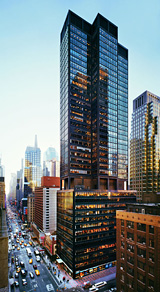 The firm signed a 10-year, 22,437-square-foot lease for the 7th floor of the 41-story, 694,000-square-foot office tower. 
"Tenants are increasingly focusing on finding existing built spaces and re-adapting them rather than building out new ones from the ground up," said Studley's Daniel Horowitz, in a statement, noting perimeter offices and an open landscape design that gives TAG what it wanted – attractive, modern, efficient offices without the extra costs and time commitment of a build out.
Mr. Horowitz represented the tenant with Jeffrey Peck and Joseph Messina, while Larry Swiger and Jeremy Bier of SL Green represented the landlord in-house with Barry Zeller of Cushman & Wakefield.
"The value proposition in this transaction was the in-place infrastructure of the space, complimented by the flexible capital contribution secured from the landlord," he said.
TAG, which is currently subletting space from Time Warner at 75 Rockefeller Plaza, will reconfigure and upgrade portions of the space, install a partially redundant HVAC system and purchase new furniture.
"The combination of lower occupancy costs and flexibility to accommodate TAG's operational requirements was critical," Mr. Peck said. "It was important for the look and feel of the space to reflect TAG's business objectives, which will include an elegant client-facing front of the house and more functional support areas."
The firm plans to move during the second quarter of this year. 
75 Rockefeller Plaza
,
810 Seventh Avenue
,
Barry Zeller
,
Cushman & Wakefield
,
Daniel Horowitz
,
Jeffrey Peck
,
Jeremy Bier
,
Joseph Messina
,
Larry Swiger
,
Rockefeller Center
,
SL Green Realty Corp.
,
Studley
,
TAG Associates