Robert C. Fink: Young Real Estate Man of the Year
---
---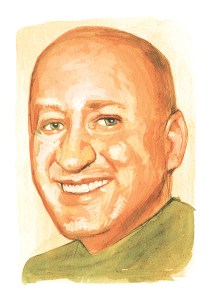 The real estate industry in New York is like the Wild West. 
"It's commission, everything goes, and you do everything you can to get a meeting," said Robert Fink. "Then you bring in a senior broker, and they take over. That wasn't my style." The endless hours of cold calling and steak dinners are nothing more than shots in the dark. Relationships with clients, if one were to emerge, existed as business transactions. There was little depth aside from the number crunching and lease signing, which Mr. Fink excelled at but didn't fulfill his desire for substance and a cultivated product.  
Mr. Fink's career didn't start in real estate. After completing his MBA at NYU Stern in 1990, he started in marketing and moved over to a sales position within the computer software industry. "There was a long sales cycle, so you developed relationships and sales over time, and the product had benefits," he said of his responsibilities. The essence of developing relationships is a central component of his skill set. 
Intrigued by real estate and a new career direction, Mr. Fink made a lateral jump to a brokerage service, joining the former ESG in 1996 at 32 years old as a tenant representative. "At ESG, I loved real estate, especially the bricks and mortar of it," he said of the transition. Three years in, he reflected on his career trajectory and wanted to make a move to better serve his cerebral mindset. "You really don't have anything of value [in brokerage]," Mr. Fink explained of the position's shortcomings. "You could be in the business for six months and still try to convince a potential client that you should represent them." 
In 1999, the Long Island-based Reckson Associates, which had gone public four years earlier, was entering the New York City market. The real estate investment trust purchased Tower Realty and started its New York division. Mr. Fink reached out to his friends and colleagues and interviewed around, ultimately being offered a position at the REIT as a leasing associate. "It was my first landlord experience in 1999," Mr. Fink cheerfully recalled. "Three years later, my boss, the director of leasing, left for Brookfield, so I moved into the senior-most position and stayed in that role for another three years. I was there for six years thinking that I would never leave—I loved it."
He left, however, for an opportunity at Equity Office Properties, a larger and national brand. He continued on the landlord side through Blackstone's massive $39 billion purchase of Equity and then jumped ship to Capital Partners. In 2008, a year and half into his position at Capital Partners, he received a call from David Kaufman of the Winter Organization, who was leaving for SL Green Realty Corp and offered Mr. Fink a position. Mr. Fink accepted and that summer made another career jump to director of leasing of the Winter Organization's 15-building, 2-million-square-feet portfolio, whose trophy buildings include the Crown Building at 730 Fifth Avenue and the Downtown jewel 111-115 Fifth Avenue. 
He looks fondly over his work at the Winter Organization. "Generally speaking, my responsibilities are keeping the buildings full," he explains. "It's a mix of sales and marketing." The brokers of his earlier days in real estate are now his clients, and he works tirelessly to maintain strong relationships with them as well as his tenants. 
Eileen Fisher, the Westchester-based fashion designer, exemplifies Mr. Fink's ability to cultivate a strong tenant relationship. The designer initially took a single floor at 111 Fifth Avenue in 2005 and has since grown rapidly, demanding more space. It's the work of Mr. Fink and the Winter Organization to accommodate the tenant's expansion to 65,000 square feet spanning five floors at the moment, with further growth to 85,000 square feet after its next expansion is finalized soon. Related Companies has been another tenant Mr. Fink has nurtured, with its offices growing to more than 100,000 square feet in Winter Organization's 423 West 55th Street. 
"These have been two prominent deals, and with that, the leases are that much more time intensive, and you really have to get into the nuts and bolts of the deal," said Mr. Fink. "It's not just a basic lease of rent and free rent. You are getting into the inner workings of the building—the electricity, infrastructure, everything. You are getting an education in all aspects." 
At REBNY's 118th Annual Banquet on Thurdsay, Mr. Fink will be honored with the Young Real Estate Man of the Year Award. The award is not solely based on age—Mr. Fink is 49—but also selected by the Young Men's/Women's Real Estate Association of New York, which was founded in 1948 by Wylie F. Tuttle for the purpose of bringing together the industry's relatively youthful professionals. The association has grown and aged, but the name has remained the same. So while there is an upper limit of 50 years old for the award, its true essence is centered on principles and professionalism. 
"The award is based on integrity and ethics, and I've always taken that to heart," said Mr. Fink of his recognition. "It has been instilled in me by my father to treat others how you want to be treated, and it's nice to be acknowledged by the industry for that."