Report: Higher Education Tenants Flocking to Lower Manhattan
---
---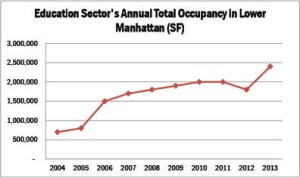 Leasing to post-secondary education tenants has increased by more than 80 percent since 2004 in Lower Manhattan, according to a January Lower Manhattan research report by the Alliance for Downtown New York. That is accompanied by a near doubling in student enrollment to about 50,000, all below Chambers Street.
Downtown Alliance Acting President William Bernstein attributes the 82 percent leasing increase downtown to the presence of the Borough of Manhattan Community College and Pace University as well as low rents and a healthy transit system.
As Commercial Observer reported last March, Lower Manhattan has been undergoing a transformation, particularly because of the influx of Pace students as well as other residents.
Seven higher education tenants in Lower Manhattan are in Class A office buildings, six are in Class B and one is in Class C. Pace and BMCC lease and own multiple buildings ranging in office class.
Class A asking rents in lower Manhattan averaged $53.18 per square foot in the fourth quarter of 2013, according to data from Cushman & Wakefield (CWK), 28 percent less than in Midtown and 27 percent less than in Midtown South. Class B asking rents averaged $36.57 per square foot in the area, down 28 percent from Midtown and 42 percent from Midtown South. Class C asking rents were an average of $35.02, 9 percent below Midtown and 30 percent below Midtown South.
The growth in higher education is not limited to downtown, or even Manhattan, the report indicates, as the number of post-secondary institutions has increased citywide by 21 percent since 2002.
And the growth trend in Lower Manhattan should continue as the Institute of Culinary Education will be relocating to 71,000 square feet on Liberty Street from Midtown South and Pace is set to open a 385-bed dormitory on Beekman Street for the 2015-2016 academic year.