JFK's Terminal 4 Welcomes Slew of New Shops
---
---
Terminal 4 at John F. Kennedy International Airport has announced the opening of three new retail shops and five more coming this month.
JFKIAT, the management company that operates the terminal, which is undergoing a major redevelopment program, announced the opening of Victoria's Secret; Bijoux Terner, which sells watches, earrings, necklaces, scarves, bags and other accessories under $10; and Bluewire electronics, where customers can try before they buy.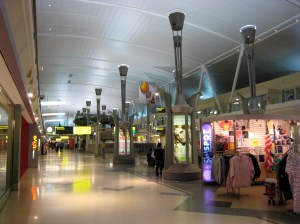 "The redevelopment of Terminal 4 to make Delta our anchor tenant has resulted in benefits for all of our airline partners and their travelers," said Alain Maca, President of JFKIAT, LLC, in a statement. "The all-new food and beverage and concession programs have been a great success and brought name brands that help the JFKIAT team fulfill its mission, to continue to improve the customer experience. We look forward to working with all of our retail partners to see even more exciting steps for the terminal in 2014."
The shops coming this month include Chocolates & More; Time to Fly, seller of  Swatch watches and accessories; Metropolitan Museum of Art, which will continue to sell art-related accessories and gifts in a larger space (it has had a presence at Terminal 4 since 2001); Michael Kors; and Hudson, described as an "upscale, high tech travel store with an updated product mix that matches the needs and desires of today's travelers."
The redevelopment of Terminal 4 will make it the new home of Delta Air Lines. Phase I of the expansion was completed in May 2013 and Phase II, which will add additional gates on the B Concourse, is slated for completion in 2015. 
The concession program at Terminal 4 has grown exponentially throughout 2013, with other recent openings including Solstice, Jo Malone, Kiehl's, MAC, Coach, Thomas Pink and an all-new, expanded Duty Free Shop in the center of the retail hall. 
Terminal 4 is home to 30 international and domestic airlines with an annual passenger volume of more than 13 million travelers. JFKIAT is the only private, non-airline company to be selected by the Port Authority of New York & New Jersey to manage a terminal at JFK.