Denny's to Open First New York City Restaurant
---
---
Denny's is reportedly moving ahead with plans to open its first New York City location in a Downtown luxury condo building after defeating a lawsuit filed by the condominium board of 150 Nassau Street.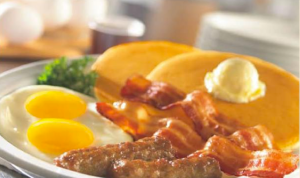 Residents of the building feared that the 24-hour diner and pancake house would attract college students — and perhaps a few late-night shenanigans — before the $10 million lawsuit was "discontinued with prejudice," a term which usually indicates some form of misconduct by the filing party and bars that party from refiling. 
"We've been engaged in discussions with the condo board at 150 Nassau Street and continue to maintain an open dialogue regarding development," a Denny's spokesperson told DNAinfo. "The board is aware that we are pursuing a liquor license at this time."
The full liquor license would allow Denny's to sell hard alcohol. The condo board had argued in its lawsuit that the restaurant would attract disruptive crowds and violate the structural integrity of the property. 
"In stark contrast to the dignity and storied character of this quiet, residential, family-oriented building, Denny's is a fast food chain synonymous with a late night party atmosphere, as well as drunk, disorderly, violent and criminal conduct," the lawsuit read.