On an otherwise ordinary winter day last month, a group of Barneys New York executives met across the street from 101 Seventh Avenue along with Newmark Grubb Knight Frank's Jeffrey Roseman to reflect on something that was in fact rather remarkable.    
Barneys would officially come back to the landmark Chelsea address it had left behind some 17 years earlier. With the papers finally signed after nearly eight months of negotiations, the group of sharply dressed men and women, Chief Executive Mark Lee and owner Richard Perry among them, could now simply take a moment to breathe in the cool air and gaze upon Barney's past—and future.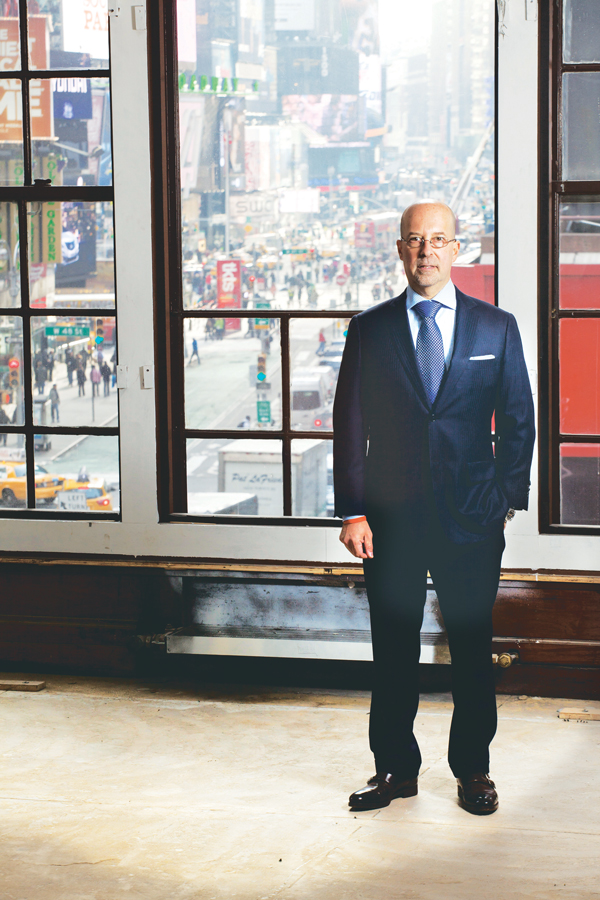 "I remember standing in front of the site with the whole team just looking at the building. I got goose bumps," Mr. Roseman said. "Then everyone started talking about how cool this will be. It's just one of those feel-good stories." 
It was "no secret," as Mr. Roseman put it, that Barneys had been interested in moving downtown for many years. But when Mr. Lee stepped into his role at the company in September 2010, he pushed for and ultimately gained the support of the firm, winning approval from Mr. Perry, who took a controlling stake in Barneys in 2012.  
"It became more serious when Mark Lee and his team joined," Mr. Roseman said. "There was something so incredible that felt so right about that site, and being Barneys purists, those guys felt that this was the way to go."       
Mr. Roseman said he began to study virtually "every neighborhood imaginable," from the Meatpacking District to Chelsea, Soho to the Lower East Side to the Financial District, nearly two years ago. When Mr. Perry came around to the idea of reclaiming the Chelsea space early last year, Mr. Roseman, a seasoned industry veteran with two decades experience in the business, began to push negotiations forward with the retail condominium's owner (as of spring 2011), Equity One.
It would take nearly eight months of negotiations before the lease was cut for the 57,000-square-foot space set across five floors, and now Barneys is slated to open in 2017. While Mr. Roseman declined to discuss asking rents, industry sources familiar with the space put the annual rent somewhere in the $6 million to $7 million range.  
"The owners were very keen on Barneys, because tenants like that don't come around that often," he said. "But it's possible they could have gotten more money if they had waited or maybe split it up or did some other stuff to the space. To their credit, I think they realized the significance of this deal." 
Significant deals in fact stretch across Mr. Roseman's two-decade résumé in the business. The Real Estate Board of New York has awarded him, among other honors, with the Retail Deal of the Year award four times, for deals that included his placement of Whole Foods Market in its Chelsea flagship store and Guitar Center at West 14th Street. 
As executive vice president and a founding partner of Newmark Grubb Knight Frank Retail, he has completed transactions totaling more than $2 billion and encompassing more than 10 million square feet of retail space, representing a list of clients as diverse as Dell, Kenneth Cole, Equinox and Chipotle and big name landlords like SL Green Realty, Forest City Ratner and Extell, to name a few. 
When real estate investor Eric Hadar of Allied Partners and the private equity firm Brickman purchased Times Square's Brill Building at 1619 Broadway in the summer of 2013 to the tune of $250 million, with plans to reposition it as a media hub that will house the Songwriters Hall of Fame, guess who they hired to market the retail space?
"The building had been unattended to for many, many years," Mr. Roseman said of the 11-floor, 82-year-old landmark building he is currently marketing. "There's a lot of work new ownership had to do throughout the building, upgrading machines and systems, and it's been a huge job. But we now have a lot of activity on the multifloor retail." 
"It has this incredible history and incredible roots in the music world, and we've been fortunate enough to have some retailers who appreciate that," he added.
Times Square is familiar terrain for Mr. Roseman, who in 2008 won REBNY's Most Creative Deal of the Year award for leasing the entire 25-story building at 1 Times Square, home to the ball-drop ceremony each year on New Year's Eve, as retail and advertising space to Walgreens. 
Mr. Roseman also took a creative approach in his latest push to attract tenants to the Brill Building, where he and ownership worked with the Landmarks Preservation Commission to approve an expansive billboard and signage plan for incoming tenants that could include a mix of stationary and LED lighting. 
"It's a Times Square building," he said. "If you were watching any of the Times Square events on New Year's Eve, the Brill Building was very prominently shown, but it has never been positioned with significant signage." 
The 175,000-square-foot Art Deco building, designed by Victor Bark Jr. and built in 1931, is famous for housing music industry offices and studios where some of the most popular American music tunes were written over the last several decades and described by some as "the most important generator of popular songs in the Western world." 
Benny Goodman and Glenn Miller's orchestras of the big band era played songs created in the building, and the likes of Neil Diamond and Paul Simon would later write tunes there. In fact, Paul Simon still keeps an office inside the Brill Building. 
"You still see Paul Simon from time to time, and there's a bunch of other music companies that are still in there," Mr. Roseman said. "You walk through the building, and it's sort of like walking through the old Yankee Stadium. It's got this incredible old world charm, of the way that things used to be, and you feel that." 
So far, a music-related restaurant concept has signed on, as well as a few fashion companies, while a number of restaurants and other iconic fashion brands looking for a showroom, and to take advantage of the billboard signage opportunities, have expressed interest. 
Mr. Roseman characterized that response as a reflection of the strength and optimism across the market, as he and a committee of leading national brokers continue to lead NGKF's efforts expanding and accelerating its retail platform across the country, with strongholds in New York, Chicago and Los Angeles.   
"Every city's got its own idiosyncrasies, but great corners are great corners in our world, and retailers want the best corner on Rodeo Drive, the best corner on Michigan Avenue and the best corner on Madison Avenue," he said.     
"[But] New York City is going to continue to go through the roof. I've never seen the demand for space that I have the past year or so. The number of overseas and national retailers that want to come into New York City is just tremendous, and I don't see that changing." 
The prime retail corridors continue to thrive, he added, noting that four years ago Madison Avenue was "the poster child for everything that was wrong in the world," with high-priced products that were too high-end for the retailers that wanted to be there. Today: "A day doesn't go by that you don't hear of a deal or a rumored deal up there." 
Meanwhile, secondary retail markets are coming back stronger than ever, especially those once seen as entry markets, later overshadowed by the suddenly chic likes of the Meatpacking District, Soho and the Flatiron District. 
"When a retailer was coming to New York 10 years ago, the first area they might have wanted to be was Third Avenue on the Upper East Side. … That area has ballooned again over the past year or two," he said, noting the presence of national retailers like Nike, Reebok and H&M.   
In the case of Barneys in Chelsea, Mr. Roseman anticipates a similar impact as that of Condé Nast's move downtown, which spurred a number of office tenants and a long list of impressive retailers at the World Trade Center that will rival those at the revamped Brookfield Place. 
"They are what we consider an anchor in retail," he said of Barneys. "Every high-end boutique or designer or shoe store will want to be near them, and it will bring better restaurants and bars. It's going to draw so many people that whoever is around them is going to benefit." 
1619 Broadway
,
Barney's
,
Barney's New York
,
Chelsea
,
Chipotle
,
Dell
,
Equinox Fitness
,
Kenneth Cole
,
Mark Lee
,
Newmark Knight Frank
,
NYC Retail Market
,
Real Estate Board of New York
,
Richard Perry
,
Songwriters Hall of Fame
,
The Brill Building
,
Times Square