Clinton Hill's Broken Angel Sells for $4.1M
---
---
The Broken Angel House at 4-8 Downing Street in Clinton Hill has been sold to Brooklyn development firm Barrett Design & Development LLC for $4.1 million.
The brick townhouse has been a neighborhood landmark since artist Arthur Wood and his late wife, Cynthia, bought the property in 1979. The couple transformed the property through a series of homemade installations and stained glass windows. Later, the property served as the backdrop of Dave Chappelle's Block Party.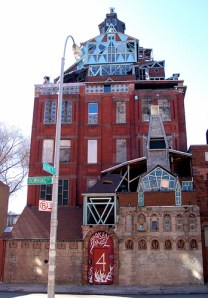 A 2006 fire revealed the property was not up to code and efforts by the owners to fund renovations through a condominium conversion plan ended in failure. Madison Realty Capital moved in after Mr. Wood defaulted on a $4 million mortgage.
The property is set for conversion now that Barrett has acquired the building. The developer recently completed a six-unit condominium project at 123 Fort Greene Place and is currently constructing a mixed-use condo project at 440 Atlantic Avenue.
The acquisition includes the vacant four-story residential building and an adjacent vacant lot. The building totals over 10,000 square feet, while the 1,920-square-foot vacant lot allows for 4,000 buildable square feet.
"We are thrilled to begin work on this important project. The property has a great deal of history, dating back to its construction as a walk-up apartment building in the 1880s," said Alex Barrett, founder of Barrett Design, in a statement. "We forward to writing the next chapter of the property's story, and adding life and vitality to this unusual block. We believe that when completed and occupied the two buildings will be a very positive addition to the Clinton Hill community."
The development and conversion team of CPEX represented the seller and procured the buyer. The team consists of Sean Kelly, managing director, and Matthew Dzbanek, associate director. The seller had asked $4.5 million, according to an offering memorandum.