A Very Fine Shopping Experience
---
---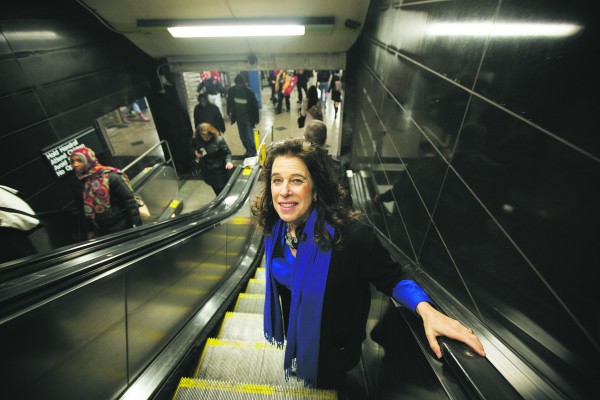 Developer and project manager Susan Fine has left her signature mark on some of New York City's most high-profile landmarks, from the development and redevelopment of mixed-use space at the World Financial Center in Battery Park City to Rockefeller Center and the Gateway Center. More than 20 years ago, as director of real estate for the Metropolitan Transportation Authority, she conceived and implemented the entire $250 million redevelopment of Grand Central Terminal, handling the financials and behind-the-scenes negotiations and restoring the historic landmark to its current form. The lessons learned there will serve as a blueprint for her latest project, developing the concourse of the 59th Street-Columbus Circle subway station. The MTA last November selected Ms. Fine and Columbus Development LLC to transform the station into a high-end retail destination. 
Currently under the working name Shop//Stop, the venue will feature 30 retailers ranging from food and beverage to apparel, set across a 27,000-square-foot boulevard-style retail concourse that will feature a market, an array of shops and dining options meant to appeal to New Yorkers of all walks, and a set of central, turnstile kiosks influenced by shopping destinations across the globe. Food, drink, coffee and yogurt will mix with high-end clothing, technology and gift shops. While Ms. Fine isn't ready to drop names just yet, she told The Commercial Observer on Friday that the final product, slated for 2015, will be anything but typical. 
What's the goal of this project? 
We believe that we can create an extraordinary urban market that will make the people who ride on trains and transit want to shop and hang out. Drawing from our rents, we will be able to finance improvements that change the way people look at underground retail, here and across the city. 
What's the layout and look of the space? 
We're going to put 30 stores in, and we'll have several areas that change a lot, because retail, by its nature, is theatrical. We can hopefully create a property that we can take other places, because the size and shape of stores has changed. When I was a kid, you went to a department store—that's not how people shop anymore. 
It's really like a boulevard, but we have varied the depths of the stores so it's not monotonous and boring. We are going to have a market. Jim Rouse said when he was trying to get Quincy Market approved in Boston that the one place where everyone can meet is at markets. I really do believe that the essence of Grand Central was something about the heart of New York, and I'm hoping to get that feel and tap into this sort of west side free-think, where there's going to be a great deal of retail development in the future.
What other types of retailers can people expect? 
We'll have great coffee and juice and chili and all of that, but the retailers will not be what you would typically see. We want to step it up a notch. We started with a list of literally 500 retailers, and at this point we're curating. We're lucky, because we have such a cool design and such a limited resource that the project has been met with a very positive response from the marketplace. 
There are a lot of different demographics we're catering to, from the very affluent population above ground at Time Warner Center to the kid coming home from school on the subway, and we need to be able to serve all of the different populations. We try to hit a price point that's both affordable to people but also has a little bit of pizzazz and is creative. 
There will also be the types of things you'd expect to find there, because you're servicing a customer, and a customer needs a newsstand, and a customer needs a place to buy a USB adapter, and a customer needs a place to buy something if they forget their spouse's anniversary gift. There will be all of those elements as well.