Williamsburg's Bedford Avenue Might Get an Apple Store
---
---
As jackhammers pound away at the future Whole Foods on Bedford Avenue, word is spreading that Apple is eying a building (once reportedly scoped out by J. Crew) just across Williamsburg's main drag for one of the company's attention-getting stores.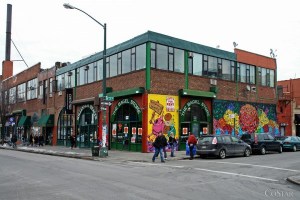 Earlier this morning The Real Deal reported that according to "several sources" Apple was checking out 247 Bedford Avenue (near North 3rd Street) for a potential Genius Bar setup and tourist trap. RedSky Capital and Waterbridge Capital bought the building as part of the "Bedford portfolio" for $66 million early last year.
The location of Apple's inevitable Brooklyn debut has been a commercial real estate industry parlor game for at least five years. TRD reports that another viable candidate is BAM South, the Two Trees Management development at 386 Ashland Place in Fort Greene. But two sources who spoke to TRD quashed that rumor, saying that the roughly 15,000-square-foot Bedford Avenue space would be the spot. Representatives from RedSky did not immediately return a request for comment, while a Waterbridge rep hastily declined to comment before wishing the CO a good weekend.
Big national chains have been steadily chipping away at Williamsburg's hip, indie bona fides for years. The Whole Foods at 240-242 Bedford Avenue is expected to open in mid-2014. The grapevine regarding a J. Crew store in the neighborhood continues to grow. And Anthropologie and Urban Outfitters also jumped on the Williamsburg bandwagon earlier this year.