Spec No More: 51 Astor Lands First Tenant
---
---
Edward Minskoff was unfazed in April when he rather pointedly blamed the media for allegations that his "spec" office tower gamble at 51 Astor Place had backfired.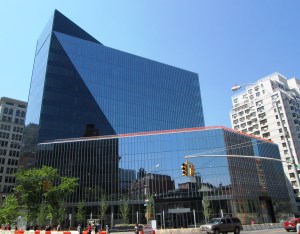 "These are words that are coming from media types that don't understand our business, so they make assumptions—and by definition an assumption is not a statement of fact," he told The Commercial Observer back then. "For them to make those kind of conjectures is totally incorrect. I think it's the best location in New York City today for people to work, and they can live right around the corner." 
When the 430,000-square-foot, granite-and-glass tower opened in April after two years of construction, however, it wasn't just real estate reporters who questioned the logic of charging upward of $115 per foot to tenants unaccustomed to working in the East Village—so, too, did industry analysts, who pointed to more affordable space a mere block west at 770 Broadway, where Facebook ended up settling. 
But Mr. Minskoff and Jones Lang LaSalle brokers Peter Riguardi, Paul Glickman, Mitch Konsker and Cynthia Wasserberger insisted that deals were coming—and in October, news broke that online auctioneer 1stdibs had inked a 15-year lease for the 12-story building's 42,232-square-foot third floor.   
Critical reports tapered off, if not disappeared.
This past Friday, poised to have the last laugh, Mr. Minskoff told The Commercial Observer that "by Jan. 30, we'll be 100 percent leased there, and that's all I'll say," declining to give specifics. Twitter, meanwhile, has been in talks to take as much of a quarter of the building, according to recent reports.
Mr. Minskoff is no stranger to spec. He started construction on the sprawling, 7.5-million-square-foot World Financial Center (renamed Brookfield Place), without a single tenant in contract, patiently securing giants like American Express, Merrill Lynch, Oppenheimer and Dow Jones as the development played out.
The LEED Gold-rated 51 Astor Place towers above the rest of the neighborhood, where a 24-hour McDonald's, Ray's Pizza and an array of small shops and restaurants harbor strong foot traffic that is accentuated by the perpetual buzz of college students.
Three storefronts wrap around the ground floor, and a school will occupy a second-floor space. A black-and-white granite lobby is anchored by a "14-foot candy apple red balloon rabbit" sculpture by Jeff Koons, which Mr. Minskoff said was "probably going to be one of the most iconic sculptures that Jeff Koons has ever done in his career."
1stdibs, relocating from its current offices at 156 Fifth Avenue in the Flatiron District, has grown over the last three years from a small operation employing roughly 20 people to one that now boasts well over 100, sources told The Commercial Observer, noting that a key draw to the new space, in addition to its sheer size, was its open floor plan.
156 Fifth Avenue
,
1stdibs
,
51 Astor Place
,
770 Broadway
,
Cynthia Wasserberger
,
Edward Minskoff
,
Jeff Koons
,
Jones Lang LaSalle
,
Mitch Konsker
,
Paul Glickman
,
Peter Riguardi