Related and Hudson Team Up to Develop Cornell NYC Tech's First Residential Building
---
---
The Related Companies and Hudson Companies will partner to develop the first residential building at the hotly anticipated Cornell NYC Tech campus on Roosevelt Island.
The school announced that the building will include 350 units of student, faculty and staff housing.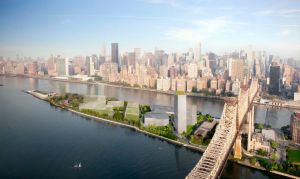 Apartments will range from "micro-units," which are increasingly being seen as a future path to affordable housing, to three-bedrooms. Expected amenities include a bike room, lounge, media rooms, a gym and a roof deck. Related and Hudson expect to break ground on the building in 2015 and have it ready by the campus' expected opening in 2017.
When finished, the center will welcome 2,000 graduate students across 2.1-million square feet of facilities. It was announced earlier this year that Forest City Ratner would be the primary developer of the campus' first phase, including the first academic building and a co-working space of sorts. In April, billionaire Irwin Jacobs of Qualcomm fortune contributed $133 million to the transformative Roosevelt Island development. DFS Co-Founder  Chuck Feeney also decided to chip in, giving $350 million to the school last year.