Passing the Torch: Real Estate Execs Sign Off in 2013
---
---
From Silverstein Properties and Boston Properties on down to Forest City Ratner Companies, age played a decisive role in succession planning across some of the country's largest real estate companies this year.
Larry Silverstein, Mort Zuckerman and Bruce Ratner all handed the reins to younger real estate executives during a year of leadership changes that rippled across the industry. Vornado Realty Trust and Cushman & Wakefield also experienced top-level shake-ups.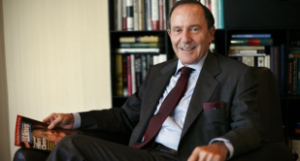 "Leadership changes can run the gamut from well choreographed and clearly signaled ahead of time to messy and surprising," Michael Knott, managing director at Green Street Advisors, told The Commercial Observer in an email.
Following a 60-year stint that included the acquisition of the 99-year lease on the World Trade Center in the months before 9/11 and the subsequent redevelopment of the site after the terrorist attacks, Mr. Silverstein, 82, announced in April he would step aside as chief executive of his namesake firm. He is to be replaced by year's end by heir apparent Marty Burger, a co-chief executive officer since 2011.
Likewise, Mr. Zuckerman, 76, resigned from his position as chief executive of Boston Properties in a logical move given the executive's age, according to Mr. Knott.
Mr. Zuckerman handed the chief executive officer title to real estate veteran Owen Thomas—a surprising decision, according to analysts, because the selection to choose an outsider, who last served as chairman of Lehman Brothers Holdings, was unexpected. The transition, which saw Mr. Zuckerman retain his title of executive chairman, has not been without its complications. 
"Mr. Thomas is a capable executive with a broad skill set and deep experience," Mr. Knott said. "However, there is risk inherent in the transition, as investors hear three voices coming from the top—Messrs. Zuckerman and Thomas and President Doug Linde—and are a little unsure what to make of it."
Mr. Ratner, 68, confirmed in April what had long been rumored: MaryAnne Gilmartin would succeed him as president and chief executive of Forest City Ratner. Ms. Gilmartin, who joined the developer in 1994, was a key player in the company's Barclays Center, New York by Gehry and 620 Eighth Avenue projects. 
"I'm exhilarated by the notion of being able to partner with Bruce going forward, but I know business," Ms. Gilmartin told The Commercial Observer at the time of the announcement. "I am a developer at heart, so Bruce and I are like-minded in terms of the importance of civic building and community and how we create great places."
Other leadership moves were less uniform and were necessitated by performance. Among those was the resignation of Michael Fascitelli, 56, from his position as president and chief executive of Vornado Realty Trust in February. The move was indicative of Vornado's struggles—the real estate investment trust had just reported a $225 million loss in its investment in retailer J.C. Penney—and came after significant speculation over Mr. Fascitelli's future.
"Mike Fascitelli stepping down as Vornado's CEO was unscripted and created uncertainty, as there was no succession plan," Mr. Knott said.
Mr. Fascitelli was replaced by Howard Roth, the REIT's chairman. The decision, despite Mr. Roth's age, was viewed positively.
"The return of Steven Roth, founder and chairman, may actually have been a good thing," Mr. Knott noted. "He is in his 70s but is capable and motivated to rewrite the final chapters of his storied career. He will see Vornado through its simplification, out of the investment wilderness and hopefully back to the Promised Land that Vornado formerly occupied."
Another change that caught the industry off guard occurred at Cushman & Wakefield, where Glenn Rufrano, 62, was replaced as chief executive by Carlo Barel di Sant'Albano, the company's chairman, on an interim basis. Mr. Rufrano had held the role for three years and left under amicable, mutual terms, according to Mr. Sant'Albano.
Though appointed on an interim basis, Mr. Sant'Albano was rumored to be considering the role of chief executive long-term. The consideration is contrary to what he told The Commercial Observer in June. 
"I think my role has been full time at the chairman level, and I am also running Europe," Mr. Sant'Albano said. "There's a lot for me to do, frankly, without having to be CEO, and the separation [of the two roles] is something we like."
However, early Monday Cushman & Wakefield announced former Goldman Sachs executive Edward Forst was appointed President and Chief Executive of the company.
In the meantime, Mr. Rufrano has returned to his former firm O'Connor Capital Partners, where he has taken over as chairman and chief executive.