Massey Knakal Arranges $8.9M Retail Sale Along Flatbush Avenue
---
---
Massey Knakal has arranged the $8.9 million sale of a 10,400-square-foot mixed-use building at 357-365 Flatbush Avenue, located between Sterling and Park Places in Brooklyn's Prospect Heights neighborhood.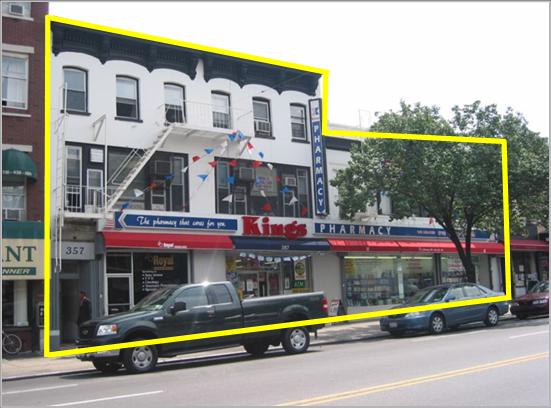 The new owner purchased the property as a retail play, with hopes of bringing in a major retailer in the vein of a CVS or Duane Reade—if not a fashion boutique or other high-paying tenant—when the building becomes vacant in 2016, brokers handling the sale said.
"It's a big bet and a very big price to pay, but I think in the end he'll be rewarded for it," Massey Knakal's Stephen Palmese, who exclusively handled the transaction with Michael Amirkhanian, said about the buyer.
"He thinks the retail pricing is going to be much, much higher than it is, and it would be a home run if he gets a CVS." 
The property, which features a 6,500-square-foot ground-floor retail space and 75 feet of frontage, is located at the crossroads of Park Slope and Prospect Heights, within walking distance of Barclays Center and Grand Army Plaza, where the retail has certainly evolved over the last several years but where the brokers handling the sale foresee additional growth. 
"This stretch of Flatbush has still not matured to the level you might expect," Mr. Amirkhanian said, noting the opportunity still, despite the emergence of Shake Shack and American Apparel along the strip, for more high-end restaurants and boutique shops. "You're on the border of two of the most popular neighborhoods in Brooklyn."  
The ground-floor commercial tenant, Kings Pharmacy, has a lease in place through 2016, and one of two residential units in the building remains rent stabilized, while an office is leased on a month-to-month basis. But current zoning allows for roughly 15,200 additional square feet of development rights, which could come into play in the event that the buyer's retail play is unrealized.
"Residential could become desirable above and beyond the retail component," Mr. Amirkhanian said.
The brokers were unable to disclose the identity of the buyer and seller.  
357-365 Flatbush Avenue
,
American Apparel
,
Barclays Center
,
CVS
,
Duane Reade
,
Grand Army Plaza
,
Kings Pharmacy
,
Massey Knakal Realty Services
,
Michael Amirkhanian
,
Shake Shack
,
Stephen Palmese