City National Bank Debuts New 44,000-SF Branch at 400 Park Avenue
---
---
City National Bank opened a 44,000-square-foot branch at 400 Park Avenue yesterday, a big step for the Midtown building as it nears the end of extensive renovations.
The 21-story property's new two-story lobby and modern design elements add luster to an address just across the street from the classic Lever House and delivers 400 Park Avenue from its derided former tenant, the off-price Syms clothing store. CNB inked the 15-year, 44,000-square-foot deal back in June of 2012.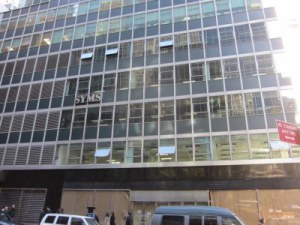 Waterman Interests signed a 75-year master lease at 400 Park Avenue back in May in a deal with Benenson Capital Partners, which owns the land. "This is far and away our most important investment that we've made to date and I think it will continue to be for a very long time by virtue of its location in Manhattan," founding and managing member Tod Waterman said of the deal. At the time, the building was 70 percent occupied and Waterman pledged to continue renovations pertaining to CNB's space and the property's elevators.
Maybank expanded at the building last year in a deal considered emblematic of 400 Park's continued renaissance.