B2 at Barclay's Gets First Module: See Video
---
---
Yesterday workers hoisted the first modular unit at the base of what will become the world's tallest residential, modular building – the B2 at Barclay's.
Today they dug into the ground at the site, continuing to lay the footing that will support the 322-foot building at the corner of Flatbush Avenue and Dean Street in Brooklyn, where it will almost literally hug the arena.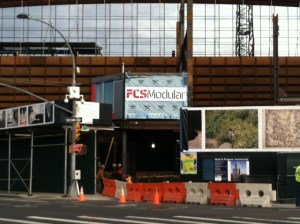 The "Made in Brooklyn" stamp draped across the front of the module had been peeled away, revealing two glass panels that give a glimpse into one of 363 apartments, ranging from studios to two-bedrooms, in the SHoP Architects-designed tower that will eventually accomodate some lucky Brooklynite.
A crane stood motionless at the site, and a construction worker claimed he was unaware of when they would hoist the next unit atop the existing one, saying only that "we don't know when but we'll be ready."
But either way the progress at the site is a sight for sore eyes, following delays that angered critics and supporters alike, ultimately forcing Forest City Ratner to find an equity investor to move things along. 
The mounting of the module was met with cheers yesterday, the New York Observer reported, noting the relatively high share of affordable units being created at the site. Of the tower's 363 units, 181 will qualify.  
The following video, courtesy of DKC Public Relations, shows how the transport of the first modular unit from the Brooklyn Navy Yard to the site unfolded.
 [protected-iframe id="ebd5c74edcdd671c3f901668ce652892-39571588-41890671″ info="//player.vimeo.com/video/81752613″ width="500″ height="281″ frameborder="0″ webkitallowfullscreen="" mozallowfullscreen="" allowfullscreen=""] 
Ultimately, 16 buildings with nearly 6,500 units will rise, with nearly 600,000 square feet of mixed-use commercial space and eight acres of open space. 
Melissa Burch, executive vice president and director of residential and commercial construction at Forest City, did not immediately return calls seeking a timeline for the next stacking.