SCG Retail Hires Geoff Bailey From TerraCRG to Grow Brooklyn Presence
---
---
SCG Retail has hired Geoff Bailey to expand its Brooklyn retail presence, The Commercial Observer has learned.
Mr. Bailey had worked for just over three years at TerraCRG, a Kings County specialist. He will steer SCG Retail as it increasingly sets its sights on New York's most populous borough.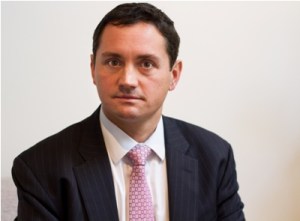 "They approached me almost a year ago," Mr. Bailey said. "And I liked where I was. It took a lot to make the switch." Mr. Bailey's noteworthy transactions at TerraCRG included SoulCycle's lease at 184 Kent Avenue in Williamsburg, the fitness chains first Brooklyn location; the $4.1 million–and nearly $900 a foot–sale of the Triangle Sports building at 182 Flatbush Avenue; and the popular Brooklyn Flea's seasonal 47,000-square-foot lease at 185 Wythe Avenue. Kidville and NYC Pet recently inked 4,500-square-foot and 1,500-square-foot deals respectively at 184 Kent Avenue.
"I think that from SCG's point of view, most of the larger retail brokerages are typically focused on Manhattan. SCG sees the demand from their tenants and landlords to operate and find locations in Brooklyn and that's what brought us together."  The retail-only brokerage has already helped bring Whole Foods and West Elm to the borough. Last year, the Atlanta-based The Shopping Center Group (of which SCG Retail is a division) merged with Northwest Atlantic, a local brokerage that represented Starbucks and Costo in their citywide expansions.
"They've done a lot of business, but it's been more piecemeal," Mr. Bailey said.
He added that SCG Retail would focus on a broad array of retail opportunities across the sprawling borough. "The New York office is called SCG [as opposed to Shopping Center Group] for a reason," Mr. Bailey said. "We're more of an urban retail firm in New York, and we shed the shopping center" connotations. Mr. Bailey brings experience with stylish retail corridors like Bedford Avenue, Court and Smith Streets as well as big box-friendly strips like 5th Avenue in Sunset Park.
"Once you get out of Williamsburg and greater Downtown Brooklyn, interest is more widely distributed," he said.  "As people dip their toes in the water, they're seeing strong demographics" in areas like Sheepshead Bay and Bay Ridge.
Prior to joining TerraCRG, Mr. Bailey was a director of sales at Massey Knakal Realty Services. He graduated from Loyola College in Maryland.