Roseland Ballroom Site to Be Redeveloped Following Venue's Closure
---
---
It's played host to acts as varied and legendary as Nirvana, Metallica, the Rolling Stones, Radiohead, Phish, Guns N' Roses—the list goes on—but storied Midtown music venue Roseland Ballroom is set to close next year after a run of shows by Lady Gaga.
Then it will be redeveloped.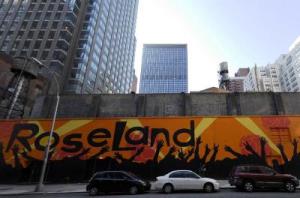 The New York Post reports that Algin Management is eyeing a 50-story, 450,000-square-foot building with retail base at the full-block site. Cetra/Ruddy has been tapped as the project's architect.
To accommodate the plan, Algin is looking to acquire 58,214 square feet of air rights from the Majestic at 245 West 44th Street and a further 4,015 feet from the Broadhurst Theater at 235 West 44th Street, according to the Post report.
Roseland moved to its current 52nd Street location—formerly the site of a skating rink—in the late 1950s. With a capacity of approximately 3,500, the venue has faced a stiff competitive landscape in New York with the Best Buy Theater, Hammerstein Ballroom, Terminal 5 and Beacon Theatre all playing to similar sized crowds.
Rumors of Roseland's closing swirled in October before the venue made the news official with the announcement of the Lady Gaga run earlier this month. The performer will play shows on March 28, 30, 31 and April 2 next year.
235 West 44th Street
,
245 West 44th Street
,
Algin Management
,
Beacon Theatre
,
Best Buy Theater
,
Broadhurst Theater
,
Guns N' Roses
,
Hammerstein Ballroom
,
Lady Gaga
,
Majestic
,
Metallica
,
Nirvana
,
Phish
,
Radiohead
,
Roseland Ballroom
,
Terminal 5
,
the rolling stones