Report: Macy's Not Heading to 125th Street After All
---
---
The outside general counsel for the National Urban League has denied a rumor that Macy's was heading to a 400,000-square-foot site owned by the Empire State Development Corporation on 125th Street in Harlem.
NY1 was the first to report earlier this morning that the massive department store chain was expanding to the storied uptown boulevard. The plan angered some locals, who said that the store would displace independent businesses–many of them minority-owned–in the historically black neighborhood. That article is currently not available online.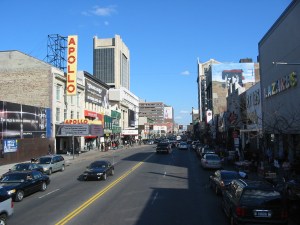 "We talked to them, we couldn't make a deal with them, and now discussions are over," Charles J. Hamilton told DNAInfo on behalf of the National Urban Leage. "The answer is no. I don't know how to say it any more emphatically."
Instead, the league intends to develop its headquarters–which will include a Civil Rights museum–at the site between Adam Clayton Powell Jr. Boulevard and Lenox Avenue. That plan also has its detractors, some of whom argue that Governor Andrew Cuomo and the ESDC are using it to ingratiate themselves with the black community.
The Urban League's plans will also still force out many small businesses in the fast-gentrifying neighborhood, where a Whole Foods is also on the way.