Nino Vendome Opens Two West SoHo Art Galleries
---
---
Antonio "Nino" Vendome, chairman of Vendome Group, has announced the simultaneous opening of two new art galleries in West SoHo's Hudson Square district.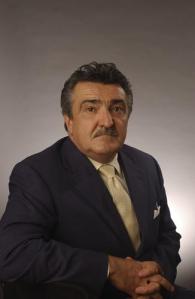 The first gallery, Studio Vendome, is located in American architect Philip Johnson's Urban Glass House at 330 Spring Street.  The second gallery, Studio Vendome Projects, is located at 30 Grand Street, across from The James hotel.
"Philip Johnson designed the critically acclaimed 'Habitable Sculpture' which I intend to build one day to continue his legacy and establish the true value of architecture as art, which will highlight Johnson's lasting impact on the American landscape," said Mr. Vendome, who said his vision stems from his close professional relationship with Mr. Johnson that blossomed in the 1980s and 1990s, in a statement.
The exhibitions showcase late career artists and artist estate collections that Mr. Vendome believes are deserving greater critical recognition, as part of the unprecedented "Rediscovered Masters" series, whose artists are elected by an Art Advisory Board composed of museum directors, curators, historians, and critics.
Art historian, publisher, and dealer Peter Hastings Falk is the curator and plans ten art exhibitions each year that will include satellite exhibitions from art museums and art centers around the country, the first of which – featuring the subliminal paintings of Geoffrey Moss and titled "Inappropriate Appropriations" – was unveiled September 10.
After the 9/11 attacks, Mr. Vendome transformed his family restaurant into his "Nino's Restaurant 9/11 Relief Fund," setting up a relief center for first responders and others at the World Trade Center site, serving thousands of free meals to Ground Zero workers in the seven months after 9/11.
30 Grand Street
,
330 Spring Street
,
Antonio "Nino" Vendome
,
Geoffrey Moss
,
Peter Hastings Falk
,
Philip Johnson
,
Studio Vendome
,
Studio Vendome Projects
,
The James Hotel
,
Urban Glass House
,
Vendome Group
,
World Trade Center