Life Companies Are Back and Strategically Competing Against Big Banks. Here's How.
---
---
It's easy to see why life companies continue to plow money into commercial and multifamily real estate mortgages: They have provided strong returns, inflicted virtually no losses and match up perfectly with their long-term liabilities.
"Mortgages have proven to be really good, solid investments for life companies," said Robert Merck, head of real estate investors for MetLife, the top life insurer in this space and the subject of a longer profile in this month's Mortgage Observer.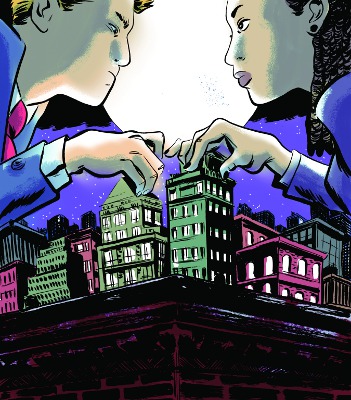 "As long as the financing doesn't get too aggressive as it did back in 2005, 2006 and 2007, you'll see the life companies continue to play a big role in the market. We see good relative value in continuing to grow and maintain that business," he added.
MetLife originated more than $9.6 billion in commercial real estate mortgages in 2012 and has topped the Mortgage Bankers Association's list of annual lending volume for each of the past eight years among life companies. Prudential and New York Life round out the top three among life insurance companies, originating $7.73 billion and $5.12 billion of commercial mortgages, respectively, last year.
In the easy-credit years before the financial crisis, life insurers battled with big banks, Fannie Mae and Freddie Mac, the CMBS market, and pension funds to put capital to work in the commercial real estate market.
"It was hard to put out money as a life company then. It ended up being a good problem," said Gregory Michaud, head of real estate finance at ING Investment Management Americas, which was the No. 7 life company in commercial mortgages last year with $1.96 billion of originations. "One factor that stopped life insurers from making bad decisions was CMBS."
But then the party ended, and, like virtually all lenders, life insurers fled the commercial real estate market in 2008 and 2009 amid the credit crunch.
"Other than Fannie and Freddie, hardly anybody was lending money. Everybody retrenched," said Gerard Sansosti, an executive managing director at brokerage HFF who specializes in originating debt. "The banks stepped away until they could get their balance sheets cleaned up and CMBS evaporated completely."
According to MBA data, annual commercial mortgage originations for life companies tumbled from a pre-crisis peak of $53.53 billion in 2006 to $30.87 billion in 2008 and then just $16.99 billion in 2009. That represents a 68 percent plunge from peak to trough.
By comparison, CMBS topped out at $230.17 billion of commercial real estate origination in 2007 but then plunged 95 percent to $12.15 billion in 2008 and then to just $4.97 billion in 2010.
But after weathering the storm far better than their banking peers, life insurance companies were among the first players to return to the commercial mortgage market. In 2010, commercial mortgage originations for life companies soared 80 percent to $30.61 billion. That number climbed another 61 percent year over year to $49.31 billion in 2011, representing a 190 percent surge from the crisis low in 2009.
Banks eventually returned to the commercial real estate financing market, growing commercial mortgage originations by 150 percent year over year in the second quarter of 2011.
However, despite the return of big banks, whose financing prowess has been bolstered by the Federal Reserve's extremely easy monetary policies, life companies stuck around.
"The Fed is basically giving banks money for free," said ING's Mr. Michaud. "Their cost of capital is cheaper. As long as [Fed Chair Ben] Bernanke is out there pumping money out there, the banks are going to have tighter priced money."
Overall, commercial and multifamily mortgage origination volumes increased 7 percent in the second quarter year over year and 36 percent quarter over quarter, according to the MBA. This was driven by a 31 percent rise in originations for multifamily properties.
Life companies generated $50.48 billion of commercial mortgage originations in 2012, up 2.4 percent from the year before. Through three quarters of 2013, life company commercial mortgage originations were up 19 percent from the same period in 2012.
In fact, the MBA said it's a safe bet life companies will generate a record amount of commercial mortgages this year.
"There is a strong appetite out there by life insurers to put money into commercial and multifamily properties, and they've had a lot of success in placing that money," said Jamie Woodwell, vice president of commercial/multifamily research at the MBA.
Ben Bernanke
,
Commercial Real Estate Finance Council
,
Fannie Mae
,
Freddie Mac
,
Gerard Sansosti
,
Gregory Michaud
,
HFF
,
ING Investment Management Americas
,
Jamie Woodwell
,
life insurance companies
,
MetLife
,
New York Life
,
Prudential
,
Robert Merck
,
Trepp
,
Waterside Plaza