Leerink Swann & Co. Subleases Again
---
---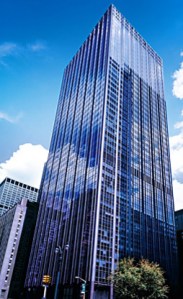 Leerink Swann & Co. will take another sublease at 299 Park Avenue.
The consulting firm, which specializes in equity research, investment banking and asset management services, will add another floor to its portfolio in the Fisher Brothers-owned building. The firm will take the 21st floor of the property from UBS, spanning 28,643-square-feet.
According to data from Compstak, the firm will be paying upward of $60 per square foot for four years.
Erik Schmall of Studley was instrumental in bringing the consulting firm into the building. He could not be reached for comment. The brokers for UBS were not disclosed.
The deal comes in light of UBS' efforts to reduce real estate costs. Officials at the firm announced it will be cutting approximately 10,000 jobs this spring and will relocate nearly 75 percent of its offices at 299 Park Avenue. The firm will maintain about 130,000 square feet across five floors until 2018, but the remainder of its space is being sub-leased.
The asking rent for its space is similar to Leerink Swann's requested rent, starting around $65 per square foot for lower levels and then jumping to $75 per square foot for floors above 35.
Several months later, the Swiss bank inked a 120,000-square-foot deal at 787 Seventh Avenue as the next step of the plan. The investment banking team will move from 299 Park Avenue to the new office, conveniently close to its existing space at 1285 Avenue of the Americas.