Law Firm Renews, Restacks at 1633 Broadway
---
---
Law firm Kasowitz, Benson, Torres & Friedman LLP has signed a 20-year renewal at The Paramount Group's 1633 Broadway.
The deal will see the firm restack at its headquarters, trading its current space on floors 20 through 24 for 225,000 square feet on floors 19 through 23. The restacking will include a complete reconstruction and technological renovation project spearheaded by TPG Architecture.
"It was intricate reinventing the infrastructure of a 43-year-old building in order to support the demanding needs of a cutting-edge law firm that needs to be in operation 24/7," said Mark Weiss, of Newmark Grubb Knight Frank, who represented the tenant, in a prepared statement. "We ultimately succeeded in creating a modern day solution for a middle-aged building."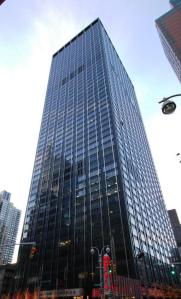 Mr. Weiss represented the tenant alongside NGKF colleague Moshe Sukenik and Howard Lorber of Prudential Douglas Elliman.
"We are grateful to Prudential Douglas Elliman, Newmark Grubb Knight Frank and Paramount for helping us to design a customized work space solution that takes into account uniformity and controllability," added Adam Endick, partner in Kasowitz's real estate group, in the statement. "They did an impressive job working under enormous time constraints to accommodate our unique needs."
A national law firm with over 375 lawyers, Kasowitz, Benson, Torres & Friedman LLP recently opened new offices in Washington, D.C. and Los Angeles. Crain's New York reported earlier this month that the firm was in advanced talks for a renewal at its New York headquarters.
A multi-million dollar renovation at 1633 Broadway, completed in 2012, included a new entrance lobby, new lighting and new lobby ceilings. The 48-story building boasts floor plates ranging from 36,000 to 54,000 square feet.