Himmel & Meringoff Tops Off Leasing at 6 East 32nd Street
---
---
Boyar Asset Management has just signed a 5,200-square-foot, four-year lease for a portion of the 7th floor at Himmel & Meringoff Properties' 6 East 32nd Street, bringing the 11-story, 173,000-square-foot boutique office building in the NoMad submarket to 100 percent occupancy, The Commercial Observer has learned.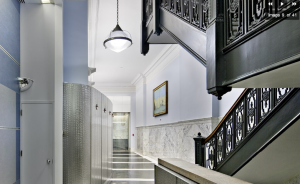 "The building's loft-style spaces, hardwood floors, high exposed ceilings and abundant natural light have become a magnet for tenants," said Leslie Himmel, noting that the asking rent was $50 per square foot. "Some buildings just have good floor plates with great layouts."
Boyar Asset Management, which was formerly located at 35 East 21st Street and provides investment advisory services for portfolio management, managing money for high net worth individuals and companies, was drawn by "stable" ownership and its flexibility with the floor plan.
"The space is pretty much already built out to the needs of the tenant and ownership has been forthright in modifying the space to the tenant's needs," said Joshua Berger of Norman Bobrow & Co., Inc. Real Estate Services, who represented the tenant. "Working with ownership made for a very smooth transaction. They are a very hands-on, stable owner and we're excited to be in their portfolio."
Boyar joins other tenants including BMG USA, City Harvest, Lot 18 and Operative Media, which signed for 30,720 square feet of space in another relocation to the building in August.
"Boyar Asset Management is a fabulous investment advisor and research company that's been in business since 1975," Ms. Himmel said. "We like having a diverse tenant base but also companies that have proven their success over many, many years."
Situated between Fifth and Madison Avenues, 6 East 32nd Street is convenient to several transportation hubs into the city, namely Penn Station, Grand Central Terminal, the Port Authority and PATH commuter rail.
Mark Stein and Jason Vacker of represented the landlord in-house.
6 East 32nd Street
,
BMG USA
,
Boyar Asset Management
,
City Harvest
,
Himmel + Meringoff Properties
,
Inc. Real Estate Services
,
Jason Vacker
,
Joshua Berger
,
Leslie Himmel
,
Lot 18
,
Mark Stein
,
Norman Bobrow & Company
,
Operative Media