High Winds Could Ground Macy's Parade Balloons
---
---
In a popular Seinfeld episode from November, 1994, Elaine's uncanny oldies knowledge wins her boss Mr. Pitt a spot holding the rope underneath a Woody Woodpecker balloon at the annual Macy's Thanksgiving Day Parade. 
But tragedy strikes when, at Tim Whatley's party, Jerry accidentally pushes a small statue of the Empire State Building out the window, piercing and presumably deflating Mr. Woodpecker.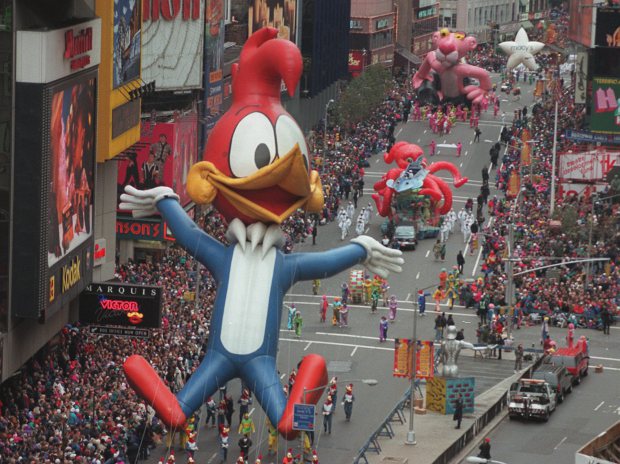 In real life, the storied balloons have only been grounded once in its 87-year history, due to bad weather in 1971, and twice individual balloons wreaked havoc on the city streets.
But high winds once again threaten to ground Snoopy, SpongeBob, Garfield, Papa Smurf, or whichever 13 air-puffed giants Macy's plans to bring to life – and into the sky – this year.     
The balloons won't fly Thursday morning if sustained winds exceed 23 mph and gusts exceed 34 mph, USA Today reported. And a storm system has already disrupted Thanksgiving travel plans across the country, with most of the tri-state area under a high wind advisory Wednesday, with 40 to 50 mph gusts possible.  
"We are closely monitoring the weather as we do each year," Macy's spokeswoman Holly Thomas told USA Today. "On Thanksgiving morning, Macy's works closely with the NYPD, who, based on real time weather data and the official regulations determine if the balloons will fly and at what heights."
The fictional Woody Woodpecker scene from Seinfeld was amusing to many, but in the past at least two incidents involving runaway balloons were no laughing matter. In 1997, a Cat in the Hat balloon flew into a metal pole, leaving one woman in a coma, after which new wind guidelines were put into place; and in 2005 a giant M&M knocked over a streetlight that injured two sisters, leading to changes in weather monitoring procedures, according the USA Today report.
The balloons are set to be inflated on Manhattan's Upper West Side on Wednesday, but if they do not fly on Thursday, the plan calls for the show to go on, with 30 full-size floats, 11 marching bands, 900 clowns and 1,600 cheerleaders and dancers.
Cat in the Hat
,
Empire State Building
,
Garfield
,
M&M
,
Macy's Thanksgiving Day Parade
,
Papa Smurf
,
Seinfeld
,
Snoopy
,
SpongeBob
,
Tim Whatley
,
Woody Woodpecker