Former Bleecker Bob's Space on the Market…Again [Updated]
---
---
Just seventh months after word spread that a frozen yogurt spot would replace the venerable Bleecker Bob's record store, it seems that the Village retail space is back on the market.
Bleecker Bob's closed in April after 46 years in business. Now, the store is speaking from beyond the grave–via Facebook–about the dissolution of Forever Yogurt's lease at 118 West 3rd Street.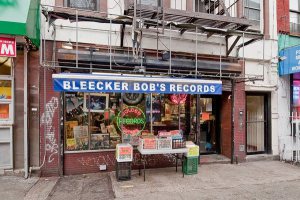 "wow….," the Facebook message read. "today we give a big FUCK YOU to the assholes at Forever Yogurt who closed down a 45 year old landmark record store to build a bullshit froyo shop and now pulled out of the lease!!!"
EV Grieve has closely followed the Bleecker Bob's saga and offered help in finding the business a home in the East Village. Over the summer, Forever Yogurt put up a sign in the old Bleecker Bob's window touting its imminent arrival as it paid tribute to the record store. Rent for the store was recently listed at $17,000 a month.
Uri Rahamim of Point NYC Real Estate, who previously listed the property, could not immediately be reached to comment or confirm that 118 West 3rd Street was once again on the market. Representatives for Forever Yogurt could not be reached. But as much as people cringed at yet another fro-yo vendor opening downtown, the future could be even more bitter if Forever Yogurt has scrapped its plan. Early rumors about Bleecker Bob's demise said a Starbucks would be replacing it.
Update: A representative for Forever Yogurt confirmed the chain is no longer opening 118 West 3rd Street.