Fintech Advisory Renews at Seagram Building
---
---
Investment firm Fintech Advisory has signed a 10-year renewal for its 6,375-square-foot space on the 38th floor at the Seagram Building, landlord RFR Realty announced today.
The tenant, founded in 1987 by Mexican financier David Martinez, specializes in corporate and sovereign debt and has been a tenant in the building since 1994.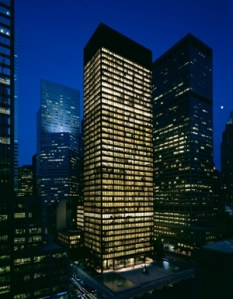 "We have experienced tremendous leasing activity at 375 Park Avenue over the past few months, which is a testament to the attractiveness of this coveted modern masterpiece," said Steve Morrows, executive vice president and director of leasing at RFR, in a prepared statement.
The Seagram Building is a well known destination for financial services firms, ranging across the spectrum of family offices, private equity firms and hedge funds. This past summer, Tamasek International, the state-owned investment company of Singapore, signed a 16,969-square-foot lease for the entire 14th floor of the building.
Located at 375 Park Avenue, the Seagram Building was designed by architects Ludwig Miles van der Rohe and Philip Johnson and was completed in 1958. RFR acquired the trophy tower in 2000.