463 Seventh Avenue Locks in a Fashion Tenant
---
---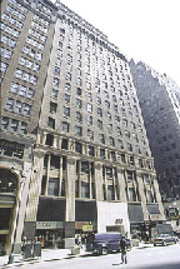 Comint Leather Goods has renewed its lease at the fully occupied Outerwear Building.
The family owned and operated outerwear manufacturer will continue to call its 6,739-square-foot office at 463 Seventh Avenue home. The term of the lease was not disclosed, but Comint Leather Goods plans to continue to utilize its space for general offices and a showroom for its products.
"463 Seventh Avenue is centrally located on Seventh Avenue between 35th and 36th Street, a prime showroom location for an apparel tenant to grow their brand," said David Levy of Adams & Co. "The building allows us to provide our clients with valuable space at the right price, creating an ideal opportunity."
Mr. Levy brokered the deal on behalf of the landlord, the Arsenal Company LLC, and the tenant. Asking rent was $42per square foot.
The influx of creative and tech tenants in the city has increased prices in Midtown South and pushed some firms to look for cheaper rents, notably around 463 Seventh Avenue where it has been predominantly fashion and apparel tenants.
The 22-story building, however, has maintained its ground and remained largely apparel-occupied. Though some non-outerwear tenants have slipped in over the years, likely due to the outward push from other buildings in the area that have taken in creative tenants.
"It's really one of the few buildings that are dedicated to apparel," said Mr. Levy in response to an earlier deal. "It used to be mostly outerwear, but it has changed to mixed. Some men's, some women's, some childrenswear. Even some very expensive. It's become a mixed bag of apparel."
Mr. Levy is the exclusive broker for a number of apparel buildings including the Menswear Center at 42 West 39th Street and the Childrenswear Center at 34 West 33rd Street.